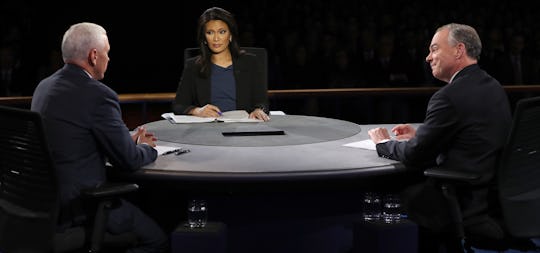 Joe Raedle/Getty Images News/Getty Images
Tim Kaine & Mike Pence Are Interrupting & Mansplaining To Elaine Quijano & The Web Noticed
The vice presidential debate moderator has had to deal with more than a heated conversation between two candidates. Tim Kaine and Mike Pence interrupting and mansplaining to Elaine Quijano earned a strong reaction on social media, because that's basically all Tuesday's debate was.
CBS News reporter Elaine Quijano anchors the CBS Weekend News on Sundays, according to the Los Angeles Times. As the leader of political coverage on the CBS online news channel, she was uniquely qualified to moderate a conversation between Democratic vice presidential nominee Tim Kaine and Republican vice presidential nominee Mike Pence. On Tuesday night, she stepped into the spotlight at Longwood University in Farmville, Virginia to take her place at the helm of the vice presidential debate.
Quijano's got the credentials to hold her own in any political discussion: CBS News reported that she was a White House correspondent for CNN before anchoring CBSN. She's the youngest debate moderator since 1988 and the first Asian-American journalist to do the job. Despite her long list of accomplishments, it seemed that she still didn't always earn the respect she deserved. As the debate progressed, Kaine and Pence seemed to slip into patterns of mansplaining that they perhaps didn't recognize, but the internet definitely noticed:
Both candidates were on the receiving end of some serious criticism. Kaine in particular got into trouble for one specific comment during the vice presidential debate captured by Global News on YouTube. When Kaine seemed to go off-topic while responding to a question about Syria, Quijano jumped in to say, "The question was about Aleppo, Senator." Kaine replied, "This is important, Elaine."
Kaine's major misstep aside, both candidates seemed to, at times, talk down to or ignore interjections from the moderator. The behavior bugged viewers who felt it was fundamentally disrespectful for the candidates to treat her the way that they did:
Viewers noticed that it even sounded as though Kaine and Pence at times adopted the same tone when talking to each other:
Bottom line, a number of the American people would have preferred if Kaine and Pence took Quijano's role in the proceedings more seriously.
The good news is, Quijano still showed her personal and intellectual power, maintaining her strength for the length of the debate. She may not have been fully embraced by the candidates, but she certainly demonstrated thoughtful questions, which is exactly why she deserved a place at the table.