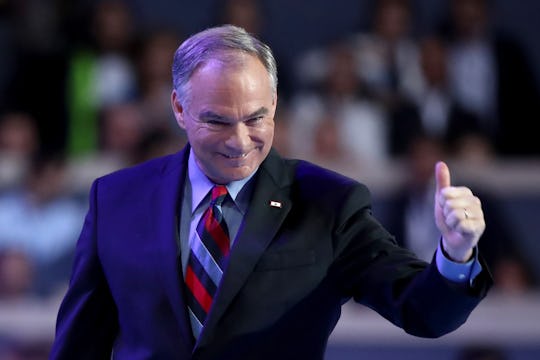 Jessica Kourkounis/Getty Images News/Getty Images
Tim Kaine Spoke Spanish During His DNC Speech & It Was A Smart Move
Not five minutes into his speech at the Democratic National Convention in Philadelphia on Monday, vice presidential candidate Tim Kaine spoke Spanish—and frankly, it was a smart move. Many in the Democratic establishment had criticized the pick of Kaine as presumptive nominee Hillary Clinton's running mate, in part because he took the place of several Hispanic contenders, including U.S. Department of Housing secretary Julian Castro. But thanks to the fact that Kaine was a missionary in Honduras as a young man, he speaks Spanish — and during his speech on Wednesday night, it paid off big time.
It was clear from the beginning that Kaine hopes to position himself as a down-to-earth working man's candidate, not unlike vice president Joe Biden. He told the crowd about his working-class background — his dad "ran a union iron-working shop in the stockyards," he said — and he testified that his parents had taught him about "hard work, kindness, and most especially faith." He described how it was his ardent belief in these virtues that inspired him to take a year off from law school to volunteer with Jesuit missionaries, where it was his task to teach kids "how to be welders and carpenters."
It was here, while describing his experiences in Honduras, that Kaine proudly broke out the Spanish, declaring that he had learned the values of the Honduran village: "faith, familia, y trabajo!" At that, the Philadelphia crowd enthusiastically held up signs reading "Juntos se puede," and Kaine translated his words into English: faith, family, and work. "Somos Americanos todos," he added.
Later in the speech, Kaine declared that Clinton is "lista" for the presidential office, which translates to "ready" in Spanish. The fact that Kaine is a white dude who can speak Spanish well, and not just for show, wasn't lost on viewers. One Tweeter commented that they were impressed that Kaine understood the "nuance of the Spanish 'listo/lista' & used it effectively in his speech."
The support of Hispanic voters is vitally important for Clinton and Kaine's ticket, not least because the majority of Hispanic Americans vote Democrat. In the 2008 election, President Barack Obama received 67 percent of the Hispanic vote, according the Pew Research Center. The inability to enact immigration reform is considered by many progressives to be one of Obama's most significant failures, and Clinton's bid for the White House depends in part on her ability to finally pass immigration reform.
Kaine has been showcasing his Spanish language skills in a number of venues. This weekend, he taped interviews with both Univision and Telemundo, according to The Washington Post. At one point, he told Telemundo reporter Rebeka Smyth that the Clinton administration would pass immigration reform legislation within the first 100 days in office.
"She is going to make a big effort in Congress to get reform passed," he said, "and with my experience in the Senate, with bipartisan colleagues, I am going to work hard — especially in Congress — to help this effort, and other issues, too."
According to the Post, Kaine's interviews with Telemundo and Univision will be especially appreciated by Hispanic voters because the Trump campaign has, to this point, essentially ignored them. Luis Megid, a national correspondent with Univision, told the Post that they don't have access to the "top players" in Trump's campaign. "Their strategy doesn't seem to include the Hispanic voters," he said.
Reform within 100 days might be considered just another empty promise, but to many voters, it's a beacon of hope in what has become a frustratingly long road.