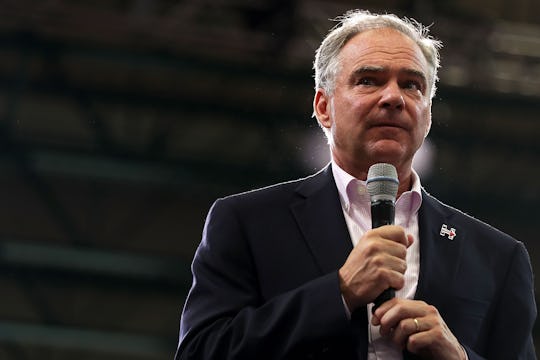 Alex Wong/Getty Images News/Getty Images
Tim Kaine's Million Mom March Scandal Is Not Much Of A Scandal At All
The 2016 vice presidential debate is approaching, and Tim Kaine and Mike Pence are preparing to defend both themselves and their running mates from the other side's attacks. While Kaine's running mate Hillary Clinton has faced some high-profile scandals, Kaine himself has mainly avoided getting embroiled in charges of misconduct. Even the biggest issue in his political past, Tim Kaine's Million Mom March "scandal," is remarkable, if anything, for how he fixed it quickly and easily.
When Kaine was the mayor of Richmond, back in 2000, he spent $6,000 of public funds to send busloads of Richmond residents to a Million Mom March in Washington, D.C. The Million Mom March was a rally advocating for greater gun control in the wake of a shooting in California, and it drew more than 750,000 people to the National Mall. However, it was clearly a political event, and some Richmond residents grew outraged that public funds had been used to support it. As the state motto says, Virginia is for lovers. Gun lovers, that is. (Plenty of Virginians would like stricter gun control, but the NRA is a powerful force there.)
So, how did Kaine react to the criticism of his semi-dumb move? He promptly raised that same amount of money privately, and paid the city back.
Really not too much to see here, except that Kaine made a mistake that didn't hurt anyone, then made amends for it. The people of Virginia were so mad about it that... they elected him governor a few years later.
In all likelihood, part of Kaine's appeal to the Clinton team was his lack of meaningful potential scandals. In an election cycle this bruising, it's a relief to have a public figure's biggest political mistakes be so easily fixed and explained. Nobody's going to make Kaine testify for 11 hours at a congressional hearing on the Million Moms March issue. Kaine even called himself "boring" on NBC's Meet The Press, following it up by saying, "But boring is the fastest-growing demographic in this country."
And thank goodness for that! Kaine is so gosh-darned likeable and decent-seeming that, after he was introduced to the national stage at the Democratic National Convention, he won the unofficial nickname "America's Dad," and Twitter exploded with jokes like:
Comedian Sara Benincasa even wrote a book called Tim Kaine Is Your Nice Dad about it.
So the Million Mom March scandal is all explained. Now, let's focus on the Tim Kaine scandals that really matter, like why isn't he playing the harmonica more? The people need your sweet music, Tim!