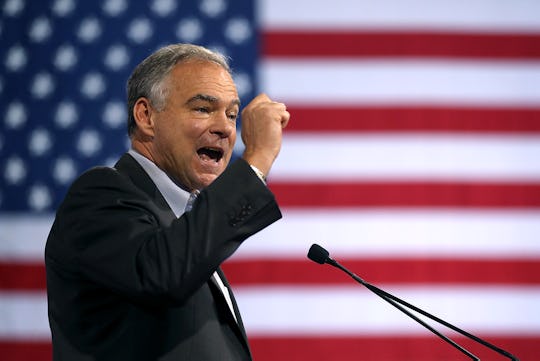 Justin Sullivan/Getty Images News/Getty Images
Tim Kaine's Quotes About His Kids Prove That Sometimes Less Is More
Last week, Presidential hopeful Hillary Clinton made the announcement many were waiting for: she selected her 2016 running mate and the Democratic Party's Vice Presidential candidate was named as none other than Virginia Sen. Tim Kaine. And while many of us are just beginning to learn about Kaine and his 22-year political career, one thing that Kaine is mum about is his family. In fact, Kaine rarely talks about his kids — Nat, Woody, and Annella — at least politically or publicly. But just because there are not a lot of Tim Kaine quotes out there about his children does not mean that he is absent from their lives, insensitive, or simply does not care. (Kaine may just be a very private man, or he may be hoping to shield his family from the scrutiny that comes along with a public and political life.) But regardless of Kaine's reasoning for not talking about his family, what is important is that when Kaine does talk about his kids he does so because it matters or because he is working to drive home a point.
Take, for example, the idea of cutting defense spending. According to the Washington Examiner, (note: a somewhat right-leaning publication) during a 2013 debate between Kaine and Republican George Allen, Kaine spoke candidly about his son, Nat, and explained that he would never do anything that would negatively impact his safety, health, or well-being:
You [Allen] and I are both fathers. I have a son who has started a career in the military. I will not do things that will hurt the troops or defense. I will not do things hurting veterans.
And in a 2014 talk with Virginia veterans, at the Culpeper VFW Post 2524, about veterans affairs, Kaine echoed a similar sentiment:
My son is an infantry officer who takes control of his first platoon Monday so these are issues [veterans affairs issues] that matter to me personally.
However, after Kaine's own father, Al, expressed concern over the lifestyle that comes with a political career — "I feel concerned for his children...Anne [Tim Kaine's wife] comes from a political family...but it's new to the children" — it was Tim Kaine's actions that spoke louder than his words.
Kaine almost dropped out of his bid for lieutenant governor according to The Virginian-Pilot:
I was driving with Anne one day with the kids and I remember thinking, 'Geez, what if I win and then I run for governor and win? This is nine years now that I'm laying out, and at the end of nine years Nat's going to be in college. Woody will be a year away from college. Annella will be in high school. I've already missed an awful lot of time with them.'?
Thankfully Anne, his wife, reassured him that he could handle both jobs, according to The Virginian-Pilot:
Don't assume that you can't be a good dad and be in politics at the same time.
And Anne is 100 percent right; what Tim Kaine says — or does not say — about his children has nothing to do with what type of parent he is, nor does his "dad status" mean he cannot be a political powerhouse.