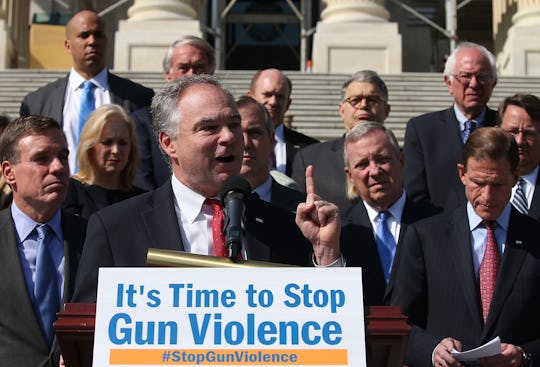 Mark Wilson/Getty Images News/Getty Images
Tim Kaine's Record As Senator Of Virginia Shows He's A Solid VP Choice For Hillary Clinton
It's official: It's going to be a Trump-Pence and Clinton-Kaine general election ballot on Nov. 7, as presumptive Democratic nominee Hillary Clinton announced on Thursday that Virginia Sen. Tim Kaine was her vice presidential pick. He's certainly not unqualified for the role: Kaine was a former governor of Virginia and currently sits in Congress as a junior senator. In congress since 2013, Tim Kaine's record as senator of Virginia hits most of the right notes for Democrats — strong on the economy, gun violence prevention and reform, expanded early education — and Kaine seems a logical, albeit safe VP pick for Clinton.
Kaine boasts a political career that has only skyrocketed since he was mayor of Richmond, Virginia from 1998 to 2001: Kaine has never lost an election. There's a very likely chance that this 58-year-old father of three could very well add "vice president" to his political resume come this November. As a senator, Kaine's voting record has largely been in line with his Democratic colleagues on Capitol Hill, if slightly centrist, according to legislative watchdog website GovTrack.us. Kaine has received favorable or 100-percent ratings from Planned Parenthood and NARAL — despite Kaine's complicated stance on abortion — as well as from the Brady Campaign, and the Human Rights Campaign.
Here's a closer look at Kaine's voting record on the big issues facing Clinton and GOP nominee Donald Trump.
Tim Kaine on Education
Kaine is a stalwart supporter of improving education for American children. He has voted in support of key education bills such as the "Every Student Succeeds Act" — a bill to replace the Bush administration's controversial "No Child Left Behind Act." He also introduced the "Strong Start for America's Children Act" in 2015 to provide quality early education for children from birth through age 5; ultimately the bill never got out of committee, but Kaine is a passionate and vocal advocate for education.
Tim Kaine on Gun Safety
With an "F" rating from the National Rifle Association, Kaine's tenure as governor during the Virginia Tech massacre acutely shaped his views and voting on gun violence prevention and reform. In the wake of the Sandy Hook school shooting and again most recently in the wake of the Orlando shooting in June, Kaine has voted favorably on gun safety legislation that would limit the sale of assault-style and high capacity firearms and require thorough background checks.
Tim Kaine on Immigration
As a freshman senator in 2013, Kaine voted with a bipartisan majority to help pass a sweeping immigration reform package that puts undocumented immigrants already living in the country on a path to citizenship. Kaine has also supported the expansion of both the Deferred Action for Childhood Arrivals (DACA) and Deferred Action for Parental Accountability (DAPA) programs — programs that provide deportation relief temporarily for children aged 15 through adults aged 30 who arrived in the country illegally.
Tim Kaine on National Security
Kaine doesn't flinch at national security issues as a member of the Senate Armed Services, Budget and Foreign Relations Committees: Since joining Congress in 2013, Kaine has sponsored five bills on national security and the Armed Forces.
With 108 days until the presidential election, voters will have plenty of time to dissect and review Kaine's stances on some of the most important issues facing Americans today.