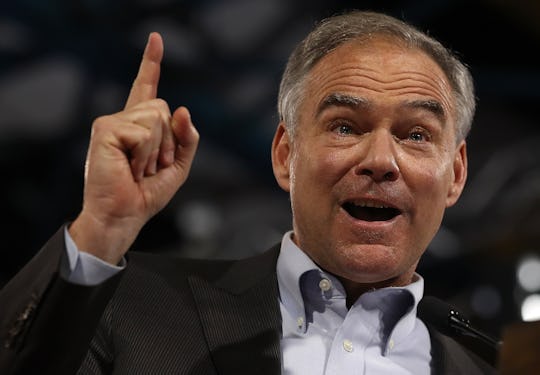 Justin Sullivan/Getty Images News/Getty Images
Tim Kaine's Views On Black Lives Matter Are Important For Clinton's Campaign
This week during the Democratic National Convention, all eyes will be on Tim Kaine — Hillary Clinton's pick for vice president, and her running mate for the remainder of the 2016 election. From his political past to his personal life, nothing will be off limits as the public gets to know the senator from Virginia. Topics like Tim Kaine's views on Black Lives Matter will be more relevant than ever.
While Kaine has not yet publicly stated his thoughts and views on the Black Lives Matter movement (which he will hopefully do soon) — Kaine has been open about his stance on gun violence and how it has got to stop. In early July, Kaine took to the Senate floor to talk about the "disturbing police shootings" of Philando Castille and Alton Stirling and how they have got to stop — in a speech that has since been published by Kaine on Medium.
While Kaine spends a lot of time talking about police officers in the speech, he also mentions that we need to pay more attention to the lives of black males killed by police although his solution is to "provide better police training" with "budgets and emotional commitment." Hm. Kaine continues: "If we have brought down the rate of police deaths by gunfire, we can bring down the rate of people killed by the police. But we cannot do it unless we care and unless we act."
While Kaine's speech isn't a direct statement about Black Lives Matter, it is a start. Kaine obviously recognizes the unrest caused by police violence towards black men and women. But according to Reuters, Kaine's political past might hurt the Democratic ticket's "outreach to blacks."
According to Reuters, Kaine supported and backed Project Exile — which launched in Richmond Virginia where he served as mayor from 1998 to 2001. The program was criticized as a "racially based initiative that condemned young black men to lengthy prison terms." According to the National Institute of Justice, "Project Exile targeted felons who were caught carrying firearms and persecuted them in federal courts where they received harsher sentences, no option of bail, and no potential for early release." This could mean bad things for the Clinton/Kaine ticket where issues like these are more topical than ever in the 2016 election.
Within the next few months leading up to Voting Day for the 2016 Presidential Election in November, all eyes will be on Clinton and Kaine to see how they approach incredibly relevant issues within the United States and the movements to help the issues, like Black Lives Matter. It is up to Clinton and Kaine to make powerful statements to voters about where they stand on these issues. People are paying more attention now than ever before.