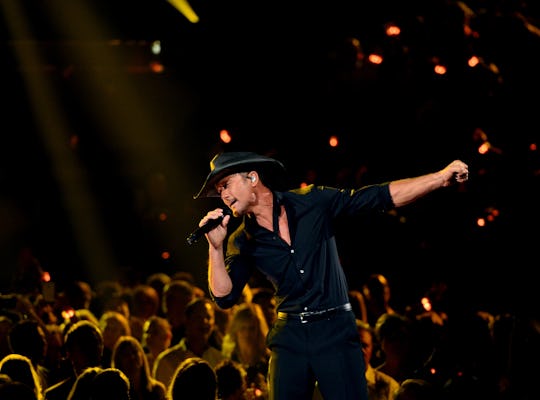 Ethan Miller/Getty Images Entertainment/Getty Images
Tim McGraw's 'Humble & Kind' Performance At The ACM Awards Was Seriously Moving
The ACM Awards are always a fun, raucous affair — but at this year's ceremony, it was Tim McGraw's moving "Humble and Kind" performance that had people captivated. The second single from McGraw's 14th studio album, Damn Country Music, "Humble and Kind" topped out on the Billboard U.S. Hot Country Songs list at number four, following its release on February 1. Since then, McGraw has said that the reception from fans — especially the youngest of the bunch — has been heartwarming to say the least.
"This cute little curly-haired kid, fourth-grade guy, was singing the song and he came up to my daughter, Audrey, and he tugged her on the arm and said, 'I listen to this song every night before I go to bed,'" McGraw told People in an interview last week. "To me, that was the best thing I could have heard."
It was stories like that which must have brought about McGraw's stirring performance on Sunday evening. Sitting on a raised platform in the middle of the crowd inside the MGM Grand Garden Arena in Las Vegas, McGraw pulled off what CBS' This Morning referred to as a moment that fans and viewers alike would "always remember."
As the house lights dimmed, the audience around him raised lighted wristbands which flickered like floating candles. During the musical interlude, McGraw made his way to the mainstage, a line of individuals "from all walks of life" following him, according to Taste of Country. The song, sung from the perspective of a parent sending their child away into the world, according to The Boot, holds special meaning to McGraw himself.
"I cried after every take," McGraw told the outlet, explaining that he had only recently dropped his own daughter off at college when he first sat down to record the single. "I would try to get myself together, and I'd get halfway through it, and I would just start blubbering every time I'd try to sing a line."
On Sunday night, McGraw seemed to hold it together, with the emotional outpouring showing in his performance rather than on his face. "['Humble and Kind'] has changed my outlook on life," tweeted one fan, following McGraw's live number. "Every parent should make their kid listen to 'Humble and Kind'," tweeted another fan. "Scratch that. Every adult should listen too."
After a stunning, tear-jerking performance like that, who could argue with her?