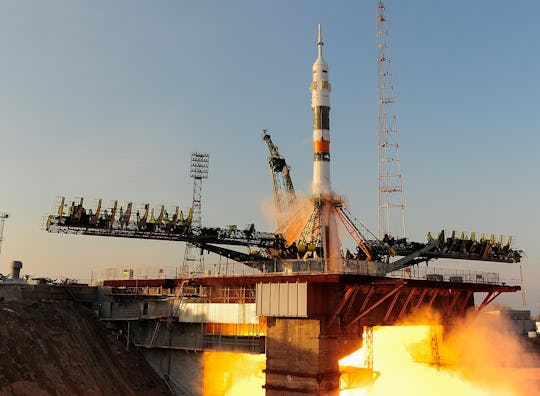 Tim Peake Posts A Picture From Space As One Of The U.K.'s First Astronauts In Orbit, & It's Absolutely Stunning — PHOTO
From NASA astronaut Chris Hatfield's rendition of David Bowie's "Space Oddity" to the news this past summer about water on Mars, to the surreal photos from Thanksgiving on the International Space Station (ISS), space is cool again, folks. It's an exciting time in space exploration, as countries once again take an interest in orbit; and President Obama just signed a $1.8 trillion spending bill that includes $1.9 billion in funding for NASA, $750 million more in funding that originally requested. But even though it's largely been the United States that has paved the way for space exploration (what with that whole moon landing thing and all), it's just as exciting a time in space exploration for the United Kingdom, as astronaut Tim Peake became the first Brit in space, boarding the ISS for a long duration mission beginning on Dec. 15.
Taking photos from space and sending them back down to Earth below is practically a rite of passage for every astronaut aboard the ISS. Scroll through just about any of the astronauts' Twitter feeds and you'll see stunning aerial photos of the Earth taken from a perspective only a very select few get to see. Now it's time to add Peake to your Twitter lists, as he tweeted his very first photo from space on Friday:
Peake, a married father of two boys, is the first British astronaut from the European Space Agency to head into space. He is taking part in a six-month mission aboard the ISS called "Principia," (taken from the Isaac Newton work on physics and math of the same name) whose purpose is to conduct experiments that can only be performed in space — "physiology, biology, materials science, solar physics, radiation physics, and technology demonstrations" as described on the Principia mission website — as well as to test out technologies for use in future space exploration expeditions.
Research and experiments aren't all that Peake has planned while he's up in space: On Dec. 4, Peake announced he would run the Digital Virgin Money London Marathon on the ISS in April of next year, making him the first man to run a marathon in space. Peake has been an avid runner in his life, having run the London Marathon in 1999. He'll be tethered to a treadmill and run the 26.2 miles while on the ISS.
It's an exciting time all around for Peake and the U.K., as they continue to make history with the Principia mission. And if his first picture from space is any indication, we should be following Peake on his Instagram account so we can witness these celestial milestones first-hand, too.
Images: ESA - Stephane Corvaja via Getty Images, Tim Peake/Twitter (2), UK Space Agency