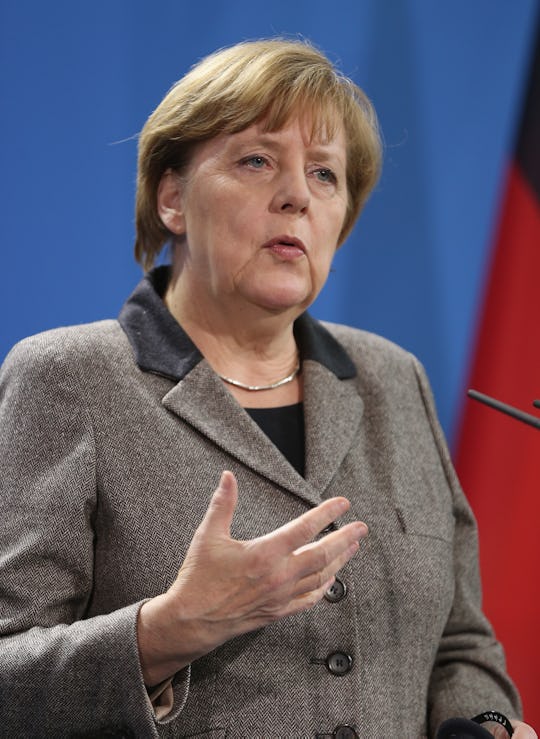 'TIME's Person Of The Year Is Angela Merkel, The "German Chancellor Of The Free World"
It seems like 2015 has been a year defined by our borders, our boundaries, our fears, and our governing bodies' responses to the question of refugees. On December 9, TIME unveiled its Person of the Year, German Chancellor Angela Merkel, and seemingly finishing the conversation: 2015 has been a defined by all of that, but for Germany, also been a year defined by kindness and understanding and empathy and hope. Nancy Gibbs, managing editor at TIME, revealed that the decision to choose Merkel as Person Of The Year was born out of her decision to open Germany's borders to hundreds of thousands of displaced refugees.
On a segment for the TODAY Show, Gibbs told host Savannah Guthrie:
In a year where world leaders were tested all through the year, no one was tested the way she was, over and over again. The threat to European peace and security really fell to her.
Merkel, the 61-year-old German Chancellor, has also been hailed by international audiences for the way she managed the debit crisis over the summer.
Adds Gibbs:
She has stepped up in a way that was uncharacteristic even for her. She's been a very long-serving leader, the longest-serving in the west. She controls the world's fourth largest economy, but this year she really was tested in how she would respond to some of the most difficult challenges that any leader is facing in the world.
Merkel bested Donald Trump and Black Lives Matters activists for the title as Person of the Year.
She's the fourth women in the magazine's history to appear alone on the cover, but the first woman to receive the title "Person of the Year" since TIME changed it from "Man of the Year" in 1999.
Most recently, Merkel opened Germany's borders to refugees when other nation's kept theirs firmly closed. Gibbs added that the magazine selected Merkel "for asking more of her country than most politicians would dare, for standing firm against tyranny as well as expedience and for providing steadfast moral leadership in a world where it is in short supply."
She continued:
By viewing the refugees as victims to be rescued rather than invaders to be repelled, the woman raised behind the Iron Curtain gambled on freedom. The pastor's daughter wielded mercy like a weapon. You can agree with her or not, but she is not taking the easy road. Leaders are tested only when people don't want to follow.
Image: Sean Gallup/Getty Images