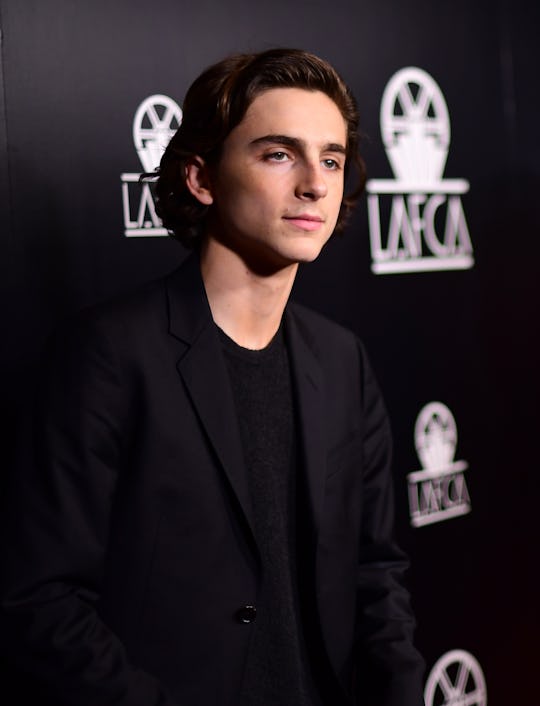 Matt Winkelmeyer/Getty Images Entertainment/Getty Images
Timothée Chalamet Donates Entire Woody Allen Film Salary To Time's Up
Timothée Chalamet will be starring in Woody Allen's upcoming film A Rainy Day in New York, a decision that has received criticism because of allegations that Allen molested his daughter Dylan Farrow when she was seven years old (which Allen has denied). As a result, Timothée Chalamet donated his entire Woody Allen film salary to Time's Up, as well as two other charities. By doing so, he was following in the footsteps of his co-star Rebecca Hall. Though the Allen accusations have been public knowledge for years (Allen has repeatedly denied the allegations, and Romper has reached out additionally for more comment), they have received renewed attention recently in the wake of the sexual assault allegations coming out in Hollywood over the last few months.
Chalamet had been asked about his decision to work with Allen more than once during the press tour for Call Me By Your Name, but always deferred his answer. He told the L.A. Times that it was "not only important but imperative to talk about," but declined to discuss it because he wanted to focus on the film he was promoting. He gave a similar answer to the Village Voice, saying, "It's going to be important for me to talk about that, but Call Me By Your Name is a movie about consent and love and it's depicted in such a beautiful way that I don't want to let anything take away from that right now."
However, on January 16 Chalamet posted a statement on his Instagram account in which he explained that he would be donating his salary from A Rainy Day in New York. This comes just a few days after Rebecca Hall did the same thing.
Hall had said that she had made the decision to appear in Allen's newest film because he gave her one of her first starring roles and that it would only be a single day of filming in her hometown. In the aftermath of the accusations against Harvey Weinstein, however, Hall became conflicted. "After reading and re-reading Dylan Farrow's statements of a few days ago and going back and reading the older ones — I see, not only how complicated this matter is, but that my actions have made another woman feel silenced and dismissed," Hall wrote. Because of that, she apologized for taking the role and decided to donate the money she earned to Time's Up Legal Defense Fund.
Seeming to take a note from Hall, Chalamet's statement expressed why he had decided to pledge the money from the film to Time's Up, the LGBT Center in New York, and RAINN (the Rape, Abuse, & Incest National Network). His statement reads:
This year has changed the way I see and feel about so many things; it has been a thrilling and, at times, enlightening education. I have, to this point, chosen projects from the perspective of a young actor trying to walk in the footsteps of more seasoned actors I admire. But I am learning that a good role isn't the only criteria for accepting a job — that has become much clearer to me in the past few months, having witnessed the birth of a powerful movement intent on ending injustice, inequality and above all, silence.
I have been asked in a few recent interviews about my decision to work on a film with Woody Allen last summer. I'm not able to answer the question directly because of contractual obligations. But what I can say is this: I don't want to profit from my work on the film, and to that end, I am going to donate my entire salary to three charities: TIME'S UP, The LGBT Center in New York, and RAINN. I want to be worthy of standing shoulder to shoulder with the brave artists who are fighting for all people to be treated with the respect and dignity they deserve.
If Chalamet was going to follow in the footsteps of a more seasoned actor, taking the lead from Hall was a good decision to make in this case.
Check out Romper's new video series, Romper's Doula Diaries:
Watch full episodes of Romper's Doula Diaries on Facebook Watch.