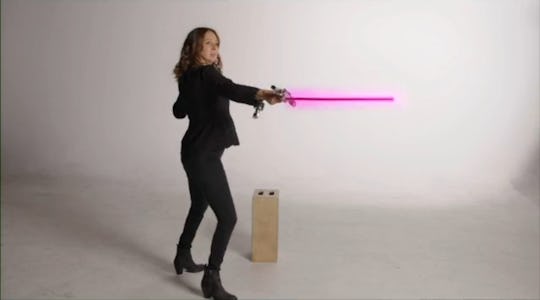 Tina & Amy Spoof 'Star Wars' In New 'Sisters' Featurette, & Now We Want Mashup of Both Movies
Tina Fey and Amy Poehler's new movie, Sisters, is set to premiere on Dec. 18, the same day that Star Wars: The Force Awakens premieres. I know. But Tina and Amy are handling the situation with characteristic fortitude and strength of character — by making as much fun of it as possible. In a wink and nod at the insanity of going up against the biggest blockbuster of the 21st century, Amy Poehler and Tina Fey spoofed Star Wars in a new Sisters promo.
The featurette purports to go behind the scenes of their movie, discussing the special effects techniques used and the importance of the movie as if it were a certain high-profile sci-fi franchise. Costars Ike Barinholtz and Maya Rudolph also appear, with Barinsholtz fondly reminiscing about the Sisters lunchbox he carried as a child, and Rudolph donning a "motion capture suit" that's little more than a colander and a string of Christmas lights. Keep an eye out for a huge sci-fi star at the very end, who will drive hardcore Star Wars fans nuts by repeating the most misquoted line in movie history (according to me, Jenn Rose, internet pedant).
#YouCanSeeThemBoth
Image: Universal Pictures