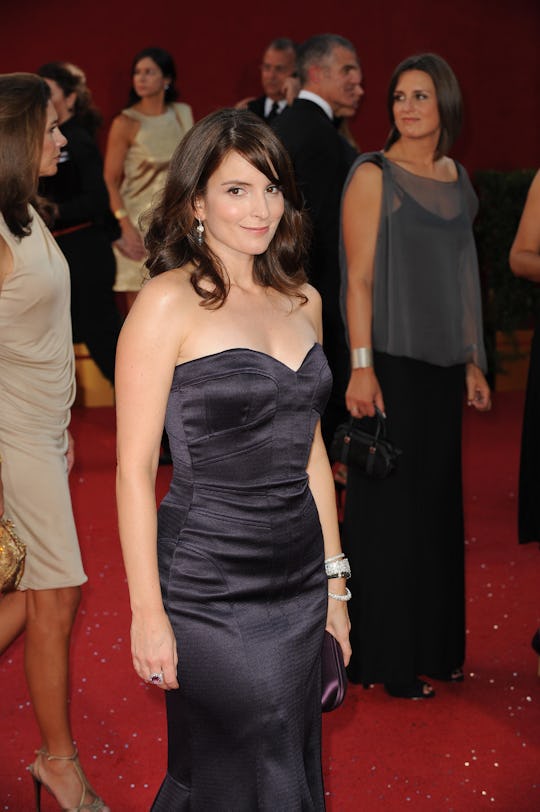 Getty Images
Tina Fey Admits She Was A Mean Girl In High School, But So Was Liz Lemon
It can't be possible that Tina Fey was a mean girl, right? Well, it is. According to the actress, who killed it on Saturday Night Live Saturday night, she totally was. In an interview with Net-A-Porter, Fey comes clean:
I was [the Mean Girl], I admit it openly. That was a disease that had to be conquered. It's another coping mechanism – it's a bad coping mechanism – but when you feel less than (in high school, everyone feels less than everyone else for different reasons), in your mind it's a way of leveling the playing field. Though of course it's not. Saying something terrible about someone else does not actually level the playing field. If I meet a girl of 14 or 15 today who is that kind of girl, I am secretly, in my body, afraid. Even though I'm 45.
It's odd to hear that Fey was ever mean or snobby, particularly because this is the woman behind Mean Girls. And, of course, 30 Rock's Liz Lemon, perhaps one of the geekiest individuals to ever hit our TV screens. The character is a klutz, has no verbal filter, or game. She would rather stay in bed and eat cheese out of can than socialize with other human beings. That's not exactly cool. But actually, Liz Lemon was a mean girl, too.
In "Reunion" (Season 3, Episode 5. Keep up, people.), Liz goes to her high school reunion because Jack makes her. She remembers being miserable and alone in high school. But when she gets there, she discovers that actually her sarcastic humor made people in high school miserable. Liz Lemon was a bully.
So if Fey was a mean girl, it only makes sense that she does the female-to- female dynamic so well. Like in Mean Girls, the seemingly popular kids are the most insecure and lonely. And because it happens when we're teenagers, no one is self-aware or compassionate enough to see other kids for what they are.
Just like in the 30 Rock reunion episode, if someone had just spoken up, a lot of lives would have been made a lot easier (and happier). So thank goodness Fey is speaking up now.
Image: Robyn Beck/Getty Images