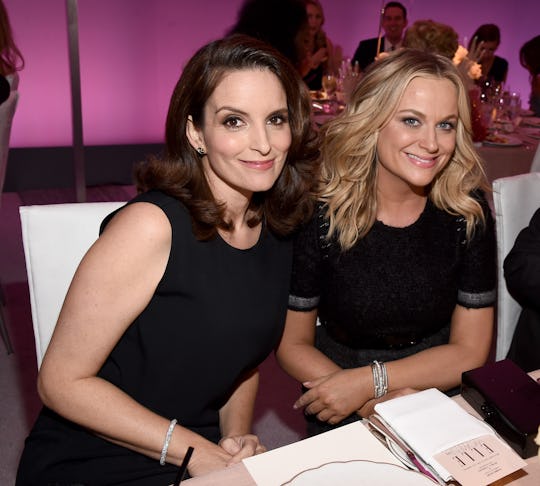 Michael Buckner/Getty Images
Tina Fey & Amy Poehler Are Hosting 'SNL' Together This December, Because Dreams Do Come True
Saturday Night Live is really sorry about that Donald Trump hosting gig thing, you guys. In fact, they've cooked up a little apology gift for America, according to The Hollywood Reporter: On December 19, both Tina Fey and Amy Poehler will be hosting SNL! THAT'S RIGHT I'M YELLING, AND I DON'T CARE! The comedy duo (and imaginary best friends of every woman ever) are promoting their new movie, Sisters, which will premiere December 18. That's right, you can have a full-on girls' weekend with Tina and Amy. I'm freaking out. Are you freaking out?
This will actually be the second time this year that the pair have visited Studio 8H together; they both appeared in the star-studded 40th anniversary episode of SNL, returning for one glorious night to the Weekend Update desk, along with SNL alum and fellow awesome woman, Jane Curtin. They also joined host Betty White for a Mothers' Day episode back in 2010. The two have made numerous solo cameos over the years, and each has hosted one episode on their own (Tina Fey in 2008 and Amy Poehler in 2010), but this is the first time the two will co-host the show together. And to whoever's idea that was, I would like to kiss you on the mouth.
And speaking of people deserving of mouth-kisses, Tina and Amy aren't the only December SNL hosts to get excited about. It was just announced that Ryan Gosling will be hosting on the 5th, and Chris Hemsworth, aka Thor himself, will host on the 12th. That's, uh, fine by me.
Bruce Springsteen and the E Street Band will be the musical guest for Tina and Amy's episode, if you're into that sort of thing. I, personally, am not, because I generally fast-forward through the musical guest, and I also try to distance myself from anything Chris Christie likes. But you know, the rest of the show should be golden. Now, if you'll excuse me, I'm going to watch this video on a loop for the next month.
Image: Michael Buckner/Getty Images