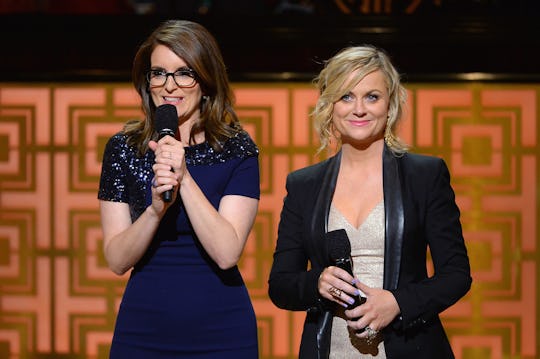 Tina Fey & Amy Poehler Played Sarah Palin & Hillary Clinton On 'SNL' Again, & Spoiler, It Was Awesome
Happy Holidays, indeed. On Saturday night hosts Tina Fey and Amy Poehler played Sarah Palin and Hillary Clinton on SNL, reprising the roles that won them huge acclaim in 2008. It was exactly the kind of sketch you'd hope for during the last SNL episode of 2015, especially since it also involved Kate McKinnon, the current cast member playing Clinton. The premise of the skit was that 2015 Hillary Clinton (McKinnon) is visited by 2008 Hillary Clinton (Poehler) and also Sarah Palin (Fey) in a dream, a la the ghosts that visit Scrooge in A Christmas Carol.
Poehler portrayed Clinton in at least 11 sketches during her time on SNL. In 2008, the real Hillary Clinton even stopped by SNL to meet Poehler in a pantsuit. But when John McCain announced Palin as his running mate, Fey and Poehler got to make some magic together. Palin (Fey) and Clinton (Poehler) appeared in the cold open for a joint address, with the two challenging their portrayal in the media during the 2008 campaign. Though Fey and the Alaskan politician look extremely similar, NPR reports that Fey wasn't eager to play Palin on SNL: "I was worried about being the mouthpiece for anyone and being politicized personally. It ended up being a lot of fun, but it did permanently politicize me in a way."
Saturday night, Fey and Poehler revisited their roles in the sketch with McKinnon. As McKinnon as Hillary Clinton of 2015 drifted into a dream, Poehler appeared in a cloud of smoke to deliver advice from 2008. Then, as McKinnon reassured her that she's a lock for the presidency, Fey appeared as Palin. ("Well what the heck, I landed in the bedroom of a lesbian couple," she quipped.)
Silliness ensued as 2008 Clinton and Palin talked about the election ("I was paired up with that cute little John McCain fella. May he rest in peace, I'm guessing.") The sketch was packed with indispensable and seriously hilarious advice and ended with — what else — a fabulous dance party.
Basically, everyone's SNL dreams came true tonight.
Image: Theo Wargo/Getty Images