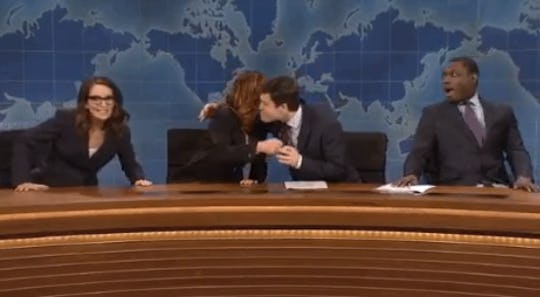 Tina Fey & Amy Poehler Returned To 'SNL' Weekend Update To Tell The Last Jokes Of 2015
SNL's beloved recurring newscast spoof went out strong this year. Saturday's hosts, Tina Fey and Amy Poehler, were back on Weekend Update to deliver the last jokes of 2015, and it was everything you could've hoped for.
Though Colin Jost and Michael Che delivered most of the jokes, Fey and Poehler were a highlight for fans. The Wrap shares what happened during Weekend Update:
But like true gentlemen, the anchors gave up the honor of the last jokes of 2015 to former anchors Poehler and Fey, the latter of whom made a good callback to her "dangerously religious" persona by saying a school in Connecticut that changed the phrase "holy night" to "solstice night" in a school performance should also consider changing the Virgin Mary to over-the-jeans Mary.
According to Vulture, Fey got her start as a Weekend Update anchor in 2000 alongside Jimmy Fallon. When Fallon left the show, Poehler stepped in; she and Fey anchored from 2004 to 2006, earning them the number two spot on Vulture's list of top Update anchors (just behind Dennis Miller). After Fey departed the cast, Seth Meyers joined Poehler for her last few years at the Update desk before becoming a mom; luckily, she was still there in 2008 (when she famously played Hillary Clinton opposite Fey's Sarah Palin).
Fey and Poehler are currently promoting their new feature film, Sisters, which was released Friday night. Sisters centers on an out-of-control house party hosted by Poehler's character and her wilder sister, played by Fey. The movie includes appearances by plenty of SNL favorites, including Maya Rudolph, Bobby Moynihan, and Rachel Dratch. Saturday night's SNL felt like a similar reunion: Fey and Poehler reprised their roles as Sarah Palin and Hillary Clinton, and Poehler joined Rudolph for a revival of Bronx Beat.
Fans were thrilled to see Fey and Poehler reading the news again:
Here's hoping this isn't the last time Fey and Poehler bring their brilliance back to Weekend Update!
Image: SNL