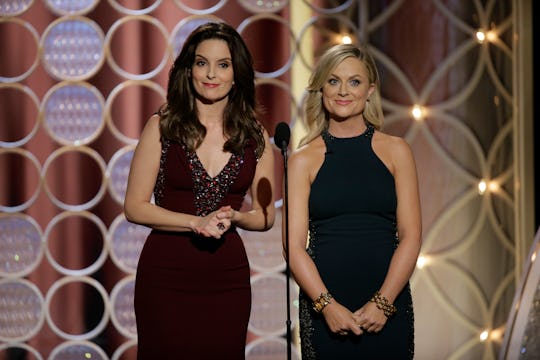 Tina Fey & Amy Poehler's "Dope Squad" 'SNL' Skit Parodies Taylor Swift's "Bad Blood" Video, & It's Brilliant
As if Tina Fey and Amy Poehler weren't already killing it hosting Saturday Night Live Dec. 19 with a reprise of their roles as Sarah Palin and Hillary Clinton, respectively, as well as their Weekend Update gig, they managed to squeeze in a good-hearted TSwift spoof and it was EPIC. Amy Poehler and Tina Fey parodied Taylor Swift's "Bad Blood" video on SNL with a skit titled "Dope Squad." The skit featured a lot of the same elements as the original — the weird glass cube, the enflamed landscape, the bondage-esque attire — but the squad itself was all new faces. Gayle Kind, Robert Downey Sr., both women's nannies, their real gynecologist (Is this for real? Do they really share a gynecologist? I need to know), Fey's mammogram technician, and Amy Schumer, who cannot figure out her "slow motion post-apocalyptic walk." When something explodes behind them, Schumer mutters, "I'm suing everyone here."
While at face value it was a fun play on Swift's video, it was also a nod to the reality that women like Fey and Poehler have many, many people helping them get it all done, and they're not just the glamazon types Swift counts in her squad. Fey and Poehler took care to include the real people who make their day-to-day life possible.
This isn't the first time Fey and Poehler have poked fun at Taylor Swift. According to Hollywood Life, Fey and Poehler first made a joke at Swift's expense during the 2013 Golden Globes, telling the star to "stay away from Michael J. Fox's son." Swift responded by paraphrasing a quote from former U.S. Secretary of State Madeleine Albright: "There's is a special place in hell for women who don't help other women." When Poehler won a Golden Globe in 2014, Fey took the opportunity to tell her "there's a special place in hell for you."
But back to the Dope Squad. Twitter was feelin' it:
Because really, who wouldn't want to be part of a squad with Tina Fey and Amy Poehler?
Image: Paul Drinkwater/NBCUniversal via Getty Images