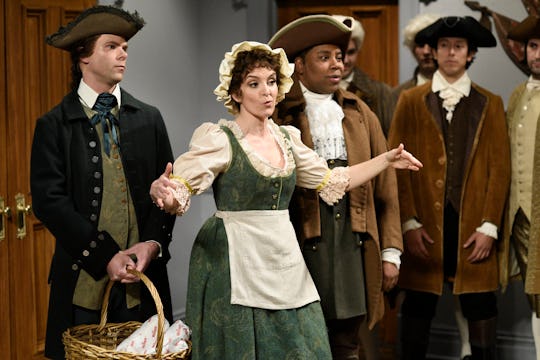 Will Heath/NBC
Tina Fey & Rachel Dratch Crashed 'SNL's Super Bowl Sketch & It Was Everything
I was pretty excited when I learned that Natalie Portman was going to be hosting Saturday Night Live, but I was extremely jazzed when I saw that the inimitable Tina Fey and Rachel Dratch crashed the Super Bowl SNL sketch and Twitter was here for it. Sometimes, you just need to bring in a ringer. (Or two). And it was definitely one of my favorite sketches of the night, and I don't even watch football.
The sketch opened during the American Revolutionary War, in which the founding fathers are talking about how New England won another battle, which is technically a good thing, but they're just so obnoxious when they win. Enter a troupe of Bostoners (and one person from Connecticut), who come into the room celebrating with mugs of beer and loud catchphrases, led by none other than Rachel Dratch. I had hardly had time to register my excitement when the group from Philadelphia showed up, led by Tina Fey. Seriously, nobody does folksy impressions like Tina Fey. Can these two just come back to the show full time please? I would watch them argue over nothing for hours upon hours on end. Especially if they're doing specific regional accents.
The founding fathers are all standing around talking about how New England has just won a great battle and sighing heavily. "Is this not good news?" Pete Davidson asked Beck Bennett, who responded, "Now we have to hear the boasting from the New England Patriots." Wow those Colonial Patriots sure seem a lot like the fans of the New England Patriots football team. When congratulated on their many victories, Dratch responded in a perfect Boston drawl, "Try five, boss." That's how many times the Patriots have won the Super Bowl. Their braggadocio even included a shout out for "Thomas Brady."
Since the Patriots are facing off against the Philadelphia Eagles on Sunday, the next entry into the room made perfect sense. Representing Philadelphia was the one, the only, Tina Fey, who was greeted with a huge round of applause. "Yeah how yous doing?," she said. "We crossed many waters up the Scoogle River to give all yous a message: Philly is mad strong. From the little babies to all our mommoms and poppops we's ready to fight!" It was at about that point that Pete Davidson had to hold his piece of prop paper over his face to keep from breaking character. "Call us the eagles cuz we's ready to fly!" said Fey, except she pronounced eagles like "iggles." I am in love with this.
The two teams then went in on each other, with Fey calling out New England's precious Brady. "He's old, he's like 40. That's like four years past life expectancy." She went on to say, "Boston's not even a real city. It's a college town with a fishing pier." Before the fight between two of our country's oldest and most historic towns got really serious, Beck Bennett attempted to calm things down. He called out the Patriots of New England for their remarkable success, but implored them to just "shut up." He also admitted that the Philadelphia Eagles were overdue for their own victory, but he asked, if they win, to "be cool, OK? Just because the British don't burn your city doesn't mean you have to."
But there was no deal, because let's face it, these two cities will never change. And would we really want them to? I'm going to use Dratch's parting jab, "One if by land, two by your mother," in all of my arguments from now on.
Check out Romper's new video series, Romper's Doula Diaries:
Watch full episodes of Romper's Doula Diaries on Facebook Watch.