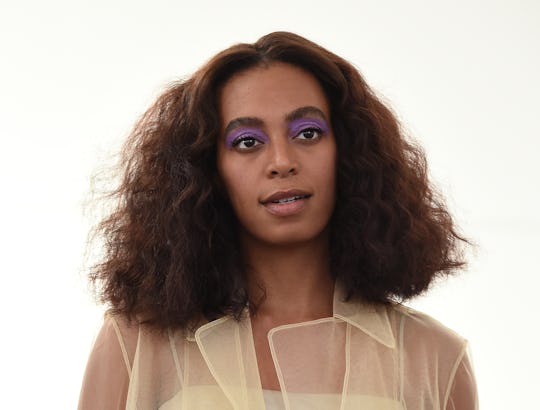 Ilya S. Savenok/Getty Images Entertainment/Getty Images
Even Solange's Mom Is The Mommest Mom
Solange Knowles is an award-winning artist who wrote, arranged, and co-produced on her latest, chart-topping album. She's an activist, an international icon, and an inspiration to millions — but that didn't stop her mom from cheerfully chastising her on social media recently. After the "Cranes in the Sky" singer posted a photo of herself accepting the Artist of the Year award at the 2017 Webby Awards (because duh), Tina Knowles commented on Solange's Instagram with the ultimate mom message. But even if Miss Tina was a tad miffed, the comment still included a sincere "congratulations" and came with an on-point emoji game, of course.
Like most moms would be, Lawson was proud of her daughter for winning the prestigious award, which Solange collected in New York City on Monday evening. The one problem? She neglected to fill her mom in on this latest accomplishment, meaning that Lawson found out about it the same way the best of us did: on the internet, when Solange posted a photo of herself accepting the accolade from actress Kara Walker. "Thank you @thewebbyawards and the phenomenal Kara Walker," she captioned the shot of the two embracing. "Genuinely shook."
And even though she birthed Beyoncé and has undoubtedly celebrated such Solange triumphs as when her album A Seat at the Table topped the Billboard 200 and when she won a Grammy earlier this year, Lawson was not pleased about missing this one.
Editor's Note: The Instagram post has since been deleted.
"Hi baby," she commented on the Instagram snap, before joining every other mom in the history of the world in gently suggesting, essentially, that her younger daughter call more often:
i know we are all busy but next time let a sister know you are getting an award (or a momma)😀 i miss you ❤️Congratulations💐💐."
And, because she truly probably was so psyched about Solange's award, she added a followup comment, too: "What a great honor Kara Walker a legendary Artist❤️"
Solange may have slipped up in not telling her mom about the Webby before she posted Monday night, but she very publicly sent her lots of love earlier this week. For Teen Vogue's music issue, she wrote a poignant and honest letter to her teenage self, devoting a portion of it to heaping praise after praise on her mom. In it, she referred to Lawson as a "wonder" who made Solange the person she is today:
you realize watching a woman balance being a supportive mother, building a successful business from the ground up that was started in her garage, and giving back to the community will make you feel invincible and like the word "no" is just an echo in the universe that you'll never know. you often take her for granted, but you know with every joint in your bones that she is a phenomenon and you strive to make her proud.
Lawson may not have been the happiest when her daughter didn't tell her about the Artist of the Year award, but Solange made sure she knows that, really, it's all thanks to her.