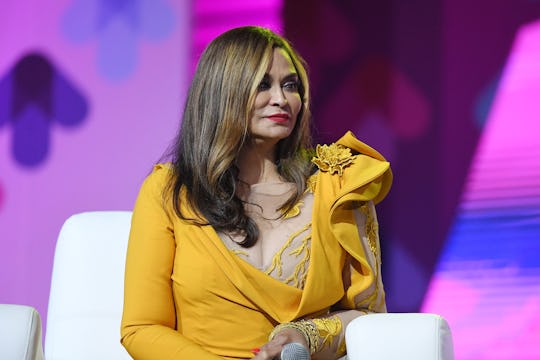 Paras Griffin/Getty Images Entertainment/Getty Images
Tina Knowles-Lawson Gushes About What Beyoncé & JAY-Z's Twins Are Like Nowadays
When Beyoncé and JAY-Z's twins, daughter Rumi and son Sir, were born this June, it took almost a month for Beyoncé to confirm their names and date of birth. And seven months later, there is still so much that people do not know about the twins. Luckily, there are people who are close to Beyoncé and JAY-Z who can indulge fans in these intimate details. Like Beyoncé's mom, Tina Knowles-Lawson who opened up about Beyoncé and JAY-Z's twins, giving fans a much welcomed glimpse at them (just without showing their actual faces).
During a red carpet appearance this weekend, Knowles got asked the very important questions — mainly about Rumi and Sir — because, priorities. Luckily, Lawson was more than happy to talk about her newest grandchildren (thank goodness). Lawson told Us Weekly:
It's amazing. It's one of the best blessings. Being a grandmother, it's not like being a mom because you don't have to have all of the responsibility, all of the time, but they're amazing.
They're so amazing that Lawson even gave Beyoncé fans a sneak peek at their personalities and which of their parents they resemble the most. As Lawson explained to Us Weekly:
This is my first experience around twins, and they're so different, and their personalities, and they are wonderful. Other than the boy has a stare, like a mean mug, like Jay sometimes, which is so cute, and the girl, she's just so happy all the time and so sweet. They are just adorable!
It is not a surprise that Beyoncé would raise a super sweet and happy daughter. And can you even imagine what a little, serious looking version of JAY-Z would look like? Too stinkin' cute.
Lawson's comments are not a far cry from what fans already know about the twins, thanks to JAY-Z himself. In August, JAY-Z told Rap Radar that he and Beyoncé named Rumi after their favorite poet. And Sir? That's another story. JAY-Z said, according to People:
Sir was like, man, come out the gate. He carries himself like that. He just came out, like, sir.
At just 7 months old, it sounds like Sir has quite the impression on people. But if you're wanting to see that "mean mug" and presence for yourself, there isn't much else out there. In November, TMZ cameras spotted the twins for one of the first times since their birth, showing that they are just as adorable as Lawson claims. Rumi's cheeks are so sweet and Sir's stare is just as serious as Lawson said it was.
Earlier this month, Beyoncé was spotted shopping at Target with her oldest daughter, Blue Ivy, and one of the twins. But other than the photo announcing their birth, Beyoncé has not shared any other photos of the twins to her Instagram account or personal website. One could only hope that a Knowles-Carter Christmas card is on the way, because Lawson's recent comments only make the desire to really see the twins even stronger.
This isn't the first time that Lawson has opened up about her grandchildren. In September, Lawson told Us Weekly that the twins were "amazing." "They're very young but they like to touch and they're adorable and just beautiful and healthy and I'm just so happy," Lawson said. Lawson also revealed what kind of sister Blue Ivy is to the twins, telling Us Weekly:
She's doing amazing! She's a big sister and she feeds them and she's excited. And she feels responsible for them being here because she prayed for them.
Thanks to Lawson gushing over her grandchildren (like any grandmother does), Beyoncé fans are so much more in the know about the twins' personalities. Fans could only hope that this isn't the last they hear about the twins, especially in 2017.
Check out Romper's new video series, Romper's Doula Diaries:
Watch full episodes of Romper's Doula Diaries on Facebook Watch.