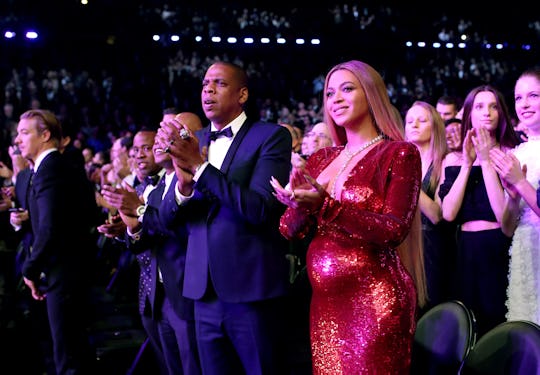 Christopher Polk/Getty Images Entertainment/Getty Images
Beyoncé's Looked Absolutely Amazing For Easter
Over the weekend, twin mom-to-be Beyoncé clocked some quality family time at her mother's Easter celebration in Beverly Hills, and even though it's not always easy to look glamorous when your body is housing two growing humans, she managed to look flawless as usual. Tina Lawson shared photos of Beyoncé's Easter bump on Instagram, along with a few other snaps and videos from the bash, according to Us Weekly, and it looked like a fun family celebration.
Beyoncé might be keeping a bit of a low profile these days, as she and hubby Jay Z await the birth of their twins (rumored to be arriving around June). But the couple, and their 5-year-old daughter Blue Ivy, happily attended her mother's bash, along with Beyoncé's former Destiny's Child bandmate Kelly Rowland, and her 2-year-old son, Titus. In a sweet photo, Lawson shared a photo of herself posing with Rowland and a very pregnant Beyoncé, and captioned the pic, "3/4th of my girls❤️ Missing 1/4 at Coachella" (Beyoncé's younger sis, Solange, was spotted at the music festival over the weekend, according to The Telegraph). Beyoncé herself was actually originally slated to headline the festival over the weekend prior to announcing her pregnancy, according to Billboard, until Lady Gaga stepped in to take her place.
Lawson also shared a short video from the family celebration, in which Beyoncé, Jay Z, and Blue (in bunny ears!) can briefly be seen. And since no Easter gathering would be complete these days without some bunny-themed Snapchat filters, Lawson also shared a funny video of herself and Rowland trying them out.
Rowland might not be Lawson's actual daughter, but it's clear that she's got as much love for the singer as she does for her other two girls. In a Mother's Day letter in 2015, Lawson penned a sweet tribute to Beyoncé, Solange, and Rowland (as well as her niece, Angie), praising them for being "amazing mothers, wives, daughters, sisters and friends." As for Lawson's proudest moment? She wrote that it happened at her 2015 wedding to actor Richard Lawson, when all of "her girls" spoke about the influence she'd had on them. Lawson wrote,
I'm often asked, what was my most proud moment? I would have to say it was at my recent wedding, when all four of you said in your own words that I taught by example and that I helped to make you the women you are today!!!! That was truly my proudest moment!
Fans of Beyoncé may have been totally bummed that they wouldn't be seeing her take the stage this past weekend at Coachella, but judging from Lawson's photos, you definitely can't blame her for needing to take it easy. As for Queen Bey herself, it looks like she found a pretty wonderful alternative: quality time spent with her mother and extended family as she and Jay Z prepare to welcome two more little Knowles-Carters into their lives very soon.