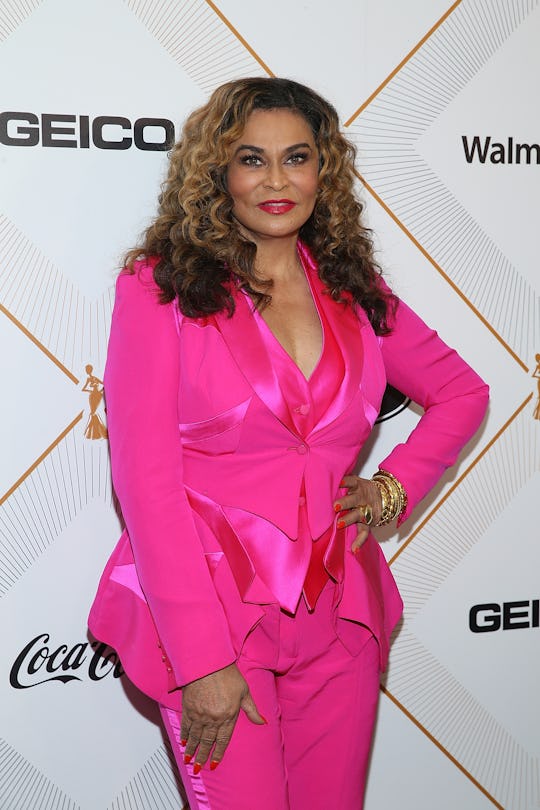 Phillip Faraone/Getty Images Entertainment/Getty Images
Tina Knowles Dishes On Spoiling Granddaughter Blue Ivy In Paris
In case you missed the cute news, Tina Lawson recently whisked her granddaughter, Blue Ivy, away on a trip to Paris. Sounds amazing, right? The image of Lawson and Blue Ivy hanging out in the City of Light together is an adorable one, to say the least. And in a not so surprising twist, Tina Lawson spoiled Blue Ivy throughout their Parisian adventure. Yep, Lawson — mother to Beyoncé aka Queen B — is just like every other grandparent out there in the world. Buckle up for some good ole fashioned cuteness, people.
During the summer months, it's not uncommon for grandparents to take their grandchildren on little trips. When I was younger, for example, I would fly down from New York to Florida to visit my grandmother for a few weeks at a time during school breaks. Of course, during these stays I was spoiled to the max — non-stop ice cream, shopping excursions, and lots of one-on-one time. I bet a lot of people out there can relate to being spoiled by a grandparent at some point or another.
Unsurprisingly, Lawson is no exception to the phenomenon of grandparents taking exceptionally good care of their grandkids. Case in point: Lawson decided to take Blue Ivy on an exciting trip to Paris in May, and while there, the two had a *fabulous* time. Sorry, Rumi and Sir.
When Lawson was asked about the trip, she revealed, according to Us Weekly:
We had the best time. We did something every day. We went to Disneyland in Paris, we went shopping every day at Galeries Lafayette. She loves that store.
Um, can I audition for the role of Lawson's granddaughter? Shopping trips to the Galeries Lafayette every day sounds like a dream.
But wait — that's not all. "Every day we went to get this donut that she liked, so she's like, I want to see the Eiffel Tower at this time of the day, but really she just wanted a donut," Lawson added in the interview. "It's a little donut with all these sprinkles. It was terrible, tasted like paper or Styrofoam, but she loved it."
What a classic grandma move. What grandparent hasn't suffered through something for the sake of their grandkid? I bet Lawson ate those "terrible" little donuts like a champ.
Amid all the spoiling, however, the trip hit a little snag when Lawson took Blue Ivy to the famed Palais Garnier theatre in Paris. Essentially, Blue Ivy didn't appreciate Lawson taking a video of the theatre for her Instagram followers. "You're not supposed to take videos grandma," Blue Ivy can be heard telling Lawson in the background of the video, according to Instagram. "You're not supposed to."
Although Lawson might not have appreciated the interruption, fans *loved* it.
"Came here to hear Blue Ivy remind miss Tina of the rules," one person penned commented, according to Instagram.
"That's adorable. Blue isn't trying to be out of pocket or disrespectful to her Grandma, just reminding her of the rules," someone else added.
Another person chimed in: "Grandma gets called out for not following the rules. You gotta love how kids keep us honest."
Lawson breaking the rules aside (you tell her, Blue Ivy), it sounds like the two had a fabulous trip. Although I'm sure some people will argue that Blue Ivy doesn't need any extra pampering from Lawson given her parents' wealth and status, I don't see why the two shouldn't be entitled to enjoy a typical grandma-granddaughter relationship. Just because Blue Ivy has celebrity parents, it doesn't mean she can't be spoiled by her grandma. Not to mention, Blue Ivy and Lawson will get to treasure these sweet moments for the rest of their lives. And isn't that what the trip to paris was about, after all? The vacation wasn't about gifts and donuts — it was about making memories.