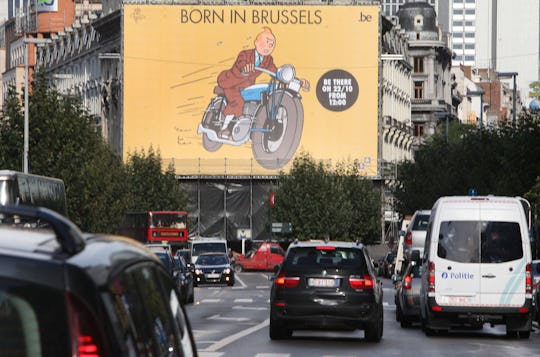 Mark Renders/Getty Images Entertainment/Getty Images
Tintin Tributes After Brussels Attack Show Solidarity Among The Global Community
Two explosions in the Belgian capital of Brussels, one at the region's largest international airport and a second inside a segment of the city's Maalbeek metro station, left at least 34 dead and 170 wounded on Tuesday morning. Though no party immediately stepped forward to claim responsibility for the attack, authorities said that the explosions reportedly bore similar markers to the tragic Paris attacks, which took place last November. Shortly after the explosions occurred, social media was buzzing, as the global community banded together, tweeting out condolences and support, as well as a swath of Tintin tributes for those killed in the Brussels blasts.
Tintin, a beloved comic character first created by Belgian artist Georges Remi (who went by the pen name Hergé), has become something of a national symbol since his debut in 1929. The character, a young Belgian reporter that often finds himself entangled in dangerous stories and mysterious cases, along with his faithful sidekick, a white Wire Fox Terrier dog named Snowy, have been featured across several mediums over the years, at one point snagging his own animated film, although globally, critics gave it a lukewarm reception.
However in Belgium, Tintin has remained a lasting fixture of the country's culture, showing up in museum galleries, theatre plays, and radio shows. On several occasions, Tintin was featured on Belgian postage stamps, and in 1995, 2004, 2006, and 2007, the investigative comic duo was even minted on limited edition euro coins.
However, on Tuesday morning, the iconic Tintin took on a new role, as hordes of mourners began posting his crying image across social media, in a stand of solidarity for the victims of the deadly Brussels blasts.
"I was raised on Tintin," wrote one grieving Twitter user. "My heart breaks [for] you all, and Tintin, Captain, Snowy, and Prof Calculus."
Others expressed simple solidarity through text posts:
At least a few users worried that perhaps the character choice was questionable, considering prior claims that the cartoon was racist:
However, in the end, the majority of users decided to stand with the Belgian people using the country's beloved character regardless:
Tintin himself even chimed in on the conversation:
With questions still circling the news media and the inevitable clean-up and ongoing investigation to follow, the most the global social media sphere can do is to show solidarity in any way possible — and in that sense, although it may have generated questions of its own, the current Tintin trend seems to be doing just that.