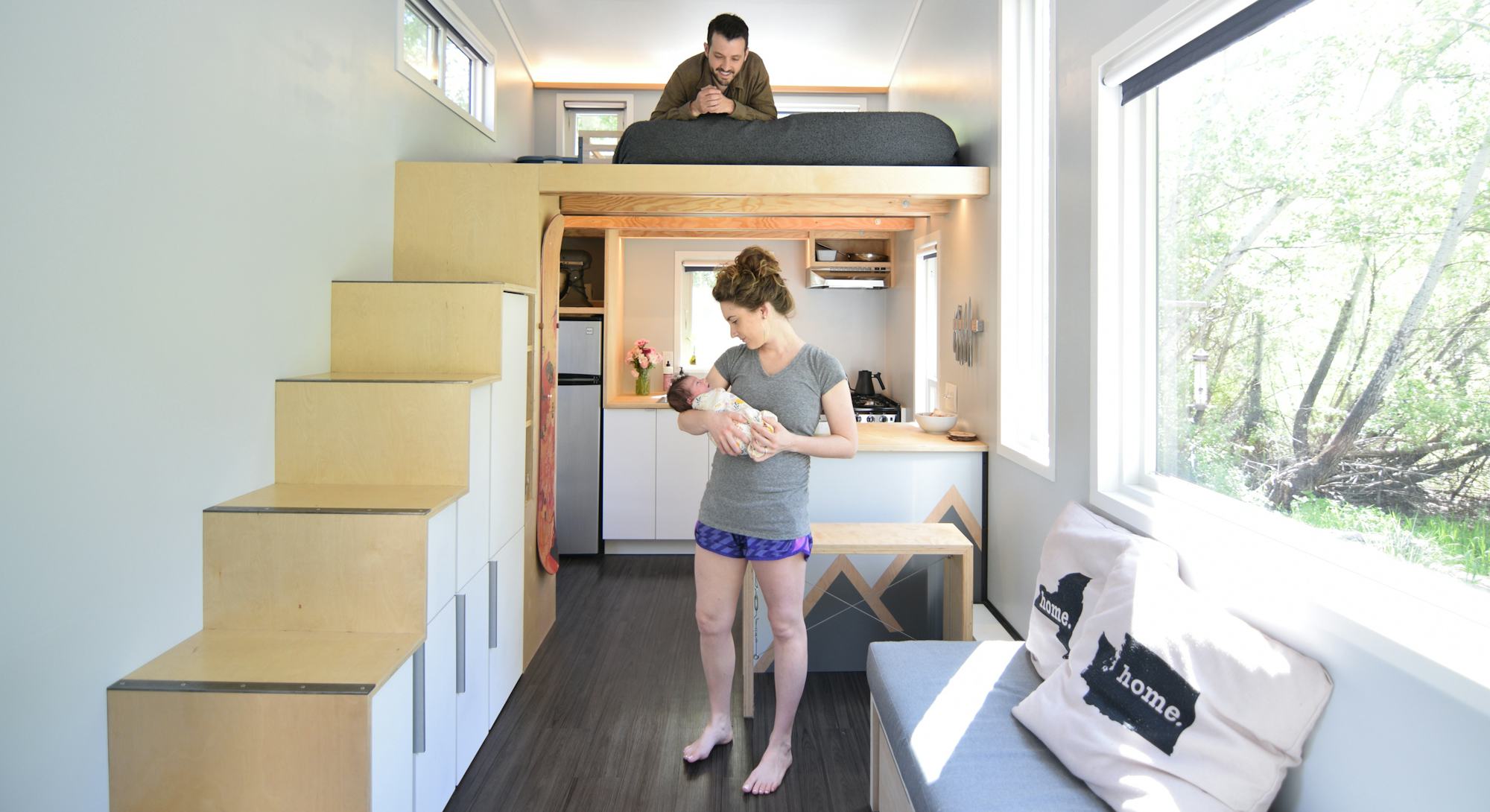 Courtesy of Samantha and Robert Garlow
These Parents Gave Up Everything To Live In Tiny Homes & The Pics Will Floor You
"I climbed up our stairs and into the bed in our loft till the day I delivered," Samantha Garlow says of living in a tiny home while pregnant with her now-6-month-old daughter, Aubrin, and husband Robert.
The Garlows, both 31, built a 204-square-foot tiny home in the Yakima Valley, in the shadow of Washington's Mount Rainier, over the course of 14 months while working full-time jobs. The house, which sits under a tilt of foliage, has allowed them to refinance their student loans and place themselves on a five-year plan to be debt free. Since the birth of their daughter, it has also funded family leave, and allowed them to travel and explore the outdoors. "I guess tiny houses are conducive to conceiving," Garlow tells Romper by email.
Tiny-home families live in cabins on the prairie and tidy little A-frames in the woods. They seem made-up, straight out of Instagram fantasyland, #tinyhomeliving in #tinylittlehouses far from the mess of suburbia. As those hashtags reveal, the faces of the tiny-home movement have long seemed to be couples with Nikon cameras and a knack for aesthetics, their cabins perpetually washed in mist or sunlight. Tiny-home living has been synonymous with the wanderlust of hipsters — their oversized forts a monument to their unwillingness to grow up. But tiny houses are increasingly home to families with small children.
The couples bringing up babies in houses with footprints barely larger than 200 square feet have approached their lives as you might a storage conundrum. In downsizing their floor plans, job commitments, and financial outlays, they've engineered space for family time, experiences in the outdoors, and, yes, sunlit lofts.
The families Romper spoke to all came to tiny living for different reasons, and at different stages of life; some lived tiny before having kids, and some downsized afterward. They have done so in the face of criticism from strangers, and pushback from zoning authorities.
Garlow found the arrangement ideal for postpartum recovery.
"Living tiny after delivering was kind of a dream," she says. "Pretty much everything in the house was within arms reach or a few steps away, which really allowed my body to rest and heal faster."
As Aubrin grows and begins to move around, they have begun to babyproof, recently installing tight netting with a cat door on their loft. Garlow says she can always see Aubrin from wherever she is in the tiny home, but jokes that she and Robert have discussed "putting pool noodles on everything."
Home, reads a throw pillow with the silhouette of Washington State on their daybed, and for Robert, home is also his office. During the day, he minds Aubrin, and at night, after Aubrin and Samantha have gone to bed in the loft behind a blackout screen, he can get on his laptop and do some work. It's a rhythm he is still trying to find. "Being a stay-at-home parent is certainly a full time job in its own right," he tells Romper by email, but "it is the attempt at simultaneously working from home that really steps it up a notch."
Still, as their picturesque Instagram footprint suggests, living tiny has been good for their relationship. "You're forced (encouraged?) to work as a team and spend a lot of time together," he says.
They document their life on the SHEDsistence tiny-home blog, where they share tips on going tiny. The home is on a friend's property, in an arrangement that is "not 100% legal and not exactly illegal either," as they put it.
Emma-Kate Davis, of Fort Collins, Colorado, had a home-birth for her daughter, Addoette, 2, in the bathroom of her "big home" shortly before her family moved into a tiny home on the prairie. After the birth of her first child, Wilder, 3, she and her husband Jacob had found that even starter homes were out of their price range. They began to research alternatives.
If anyone had ever told me that I'd have a kid called Wilder, after Laura Ingalls Wilder, and live in a little house on the prairie...
They asked, "How could we maximize our housing options and not be a slave to the man?" as Davis puts it to Romper. Adrift on the internet, she discovered Macy Miller, who was documenting her life with two small children and her partner in a tiny home on the website MiniMotives, and was one of the first tiny-home families to blow up. "She just is this kind of person who is like, Why not, like why not give it a try?" Davis says of Miller.
Davis attended a tiny-home jamboree where she met Miller in person and was star struck. Davis and her husband worked with a local builder, Mitchcraft, to fabricate a tiny home, and from there, she began what she calls on her blog a "grand, albeit unconventional, adventure."
"If anyone had ever told me that I'd have a kid called Wilder, after Laura Ingalls Wilder, and live in a little house on the prairie!" Davis exclaims. Today, she chronicles their life in a tiny home on Instagram. They found a man willing to lease a patch of his property — the third tiny home to occupy the spot.
Emma-Kate works part-time as a social worker, and Jacob works 2 p.m.-12 a.m. shifts as emergency personnel at a vet clinic, putting them on opposite shifts, and leaving two "family days" a week, in which they get "off-grid chores" like collecting water or preparing for storms, and activities like going to the park or swim lessons. I ask her about surviving close quarters with your partner.
"When you live in a tiny there is less room for stuff, that includes tension in the air," she says. "You can't go hide out in a different room with the door closed and fume." Finding alone time is easier than finding time just for the two of them, she says.
In honesty, Davis says, the only thing she misses is being able to do a full-size load of washing: "Some things don't change!"
Davis's tiny home has two lofts, but, she admits, everyone sleeps in the main loft. "That six feet between the kids' loft and our loft is too much," she says of the kids' preference for clambering over to the "master" loft. Proponents of attachment parenting, she notes that breastfeeding and co-sleeping are easy in a tiny home, and the simple constraints of the home streamline their lives.
"Even when my son was born, we didn't need the bouncy seat and the not-bouncy seat and the inside swing and the outside swing, we just had the Ergo [soft carrier], and a Bob's stroller and that was it."
The original tiny-home mom of sorts, Macy Miller, of Boise, Idaho, lives with her partner James, son Miles, 2, daughter Hazel, who is "almost 4," and their great dane, Denver, on the road. Macy built a 232 square-foot tiny house before she was married, and they lived in it until Hazel was 3-years-old. It allowed them to get debt free, though they ran into a zoning code violation. Despite the unaffordability of housing, many residential codes do not allow tiny homes on foundations (though on wheels is fine). Miller and her husband, who are both architects, have campaigned with other tiny homers to change regulations.
They are now in an 84 square-foot camper-home, moving every few days as they tour America's national parks.
Like all the tiny-home families we spoke to, the Millers had a co-sleeping arrangement in the loft when their daughter was an infant. They then built an extension on the back of the house when their son came along to serve as their daughter's "room."
I lived in a tiny house and I got a lot of criticism over that, and that prepared me more for parenthood.
Miller grew up in Boise, Idaho, as a latch-key kid, and having children only strengthened her belief that living tiny was right. "Everything that was a priority before just got stronger [after having a kid]," she recalls, remembering her realization that "that's exactly the wrong time to move out of the tiny house."
As one of the first "big" tiny-home families, Miller often receives messages from couples looking to follow her into tiny-living, but has also seen a reliable amount of criticism over her choices. In fact, she says, it made parenting easier. "It was difficult for me when I was pregnant and everyone was telling me I had to change for the kiddos," she says. "but I lived in a tiny house and I got a lot of criticism over that, and that prepared me more for parenthood, because I had already gone through it."
Miller doesn't believe in marriage, and speaks with the kind of clarity and immediacy that is so catching for the families who followed her footsteps. "Living tiny," she says, "will definitely make or break a relationship."
Tiny-home living feels like a rebuke of how the rest of us live. Inevitably, these families live off the grid or at the edge of the prairie or parked in a cell-signal-resistant canyon in a metal trailer. Even if they are doing it for their own reasons, criticism is inevitable.
"Pretty much everyone makes you feel like you have no idea what you're doing," says Miller of being pregnant in a tiny home. Tiny lives feel a little too cute to some. I admit that for me the idea of a tiny home brought up images of families living in doll houses, ducking their heads to get under child-sized eaves and sitting in miniature furniture. But when you glimpse their lives on Instagram and Tumblr, their homes are aglow in natural light, surrounded by endless space to explore.
Listening to Miller explain her life on the road, kids clambering on her, I felt that terrible yawning fear that "I'm missing it" open up beneath me. All parents know this fear — its tentacles reach us from around the corner when we so much as step into the next room away from our babies. But it's worse when you drop your kids at daycare in the morning and return after dark. This is what the tiny-home movement has tapped into.
One way tiny homes are subversive is they're so damn cheap. Miller built hers for an estimated $12,000. They are very much a response to the unaffordability of housing following the subprime mortgage crisis. Kate Wagner chronicles the poor design of many of these monuments to wealth in her blog McMansion Hell. From nubs that solve a roofing quandary, to decorative windows to foam-core columns at the front door, the blog calls out careless, wasteful design. Tiny homes answer to the sins of capitalism with purposeful design — every space maximized — and cost. The Garlow's tiny home cost about $30,000 in materials, and the Garlows, like all the families interviewed by Romper, put in their own sweat equity to make their projects happen.
We live on the prairie so there is more space than any person could figure out what to do with.
Virtually all the families I spoke to acknowledged the impossibility of tiny living for everyone; most have professional occupations and college or graduate degrees, and are savvy enough to eke out a living through blogging or other internet-facilitated jobs. But there is also a straight practicality to them: rather than acquiring additional goods, they build extensions by hand, and slot together bassinet co-sleepers when their babies arrive.
Tiny living does mean going without, but the families have baths, kitchens, play mats, even bedrooms. It just so happens that the master loft sits above the handsome butchers block counter in the kitchen, and, where you might expect to find a foyer, there is a rush of prairie grass. Tiny home families get heapings of criticism from strangers, from well-meaning family and friends, but when you go inside their world, it starts to make a ton of sense. It's not even so wildly out of sync with how many families live. For comparison, a two-bedroom apartment in Brooklyn, New York, which frequently houses an entire family due to housing costs, averages 662 square feet, according to RentCafe.
The misconception that tiny houses are essentially a form of camping suggests something about our ideas about what a family life is — that anything less than the three-bedroom house is radical. The tiny home families we spoke to have all been asked how they find privacy, or how they can deprive their kids of play space. "Probably 80 percent of our day is outside," says Davis, who lives off-grid with solar power, "so even though our space is less than 300 square feet right now, we live on the prairie, so there is more space than any person could figure out what to do with."
You don't have to aspire to a tiny home to recognize the friction in wanting less junk and more time with your kids.
If people react dismissively to tiny-home families, I suspect it's because when you see a family hiking together, traveling, and sustaining themselves from the woods while you log most of your hours from a workplace, a long commute away from your kids, you feel like you've been conned. Even resolute city dwellers wonder if there is a better way.
As Miller puts it on her website, "This feels important."
Susannah DeAngelo is about to go tiny. Currently living in a 2-bedroom apartment in Spanish Fork, Utah, and documenting the refurbishing of a 96 Roadtrek 2010 RV on her blog FullTimeDreaming, she is excited to tour all 59 national parks in 2018 with her toddler Harrison, 1, and husband Mikey.
The idea came to her a couple years ago, she tells Romper. "I was reading Marie Kondo at the time, and how freeing throwing everything away was, in this tiny apartment, and that's when we were gunning to make this happen." As fate had it, her husband lost his job shortly after they had their son. It was a "wake-up call," she says, that the 9-to-5 workday "that we all think of as normal" wasn't right for them.
Growing up in the Bay Area, DeAngelo's best memories were of camping and traveling with her family. "My dad worked a lot," she says. "When we were home, he was usually working, he works very hard, and I love him," but it wasn't what she wanted for her own child. As she talks to Romper by phone, a little voice lofts across the line, "you know [Harrison] just give me a big hug," she says.
The actual tiny home turns out to be the most cursory part of the movement. You don't have to aspire to a tiny home to recognize the friction in wanting less junk and more time with your kids.
"Would you live in a tiny home if you could quit your job and be stay-at-home parents?" I text a friend. "Lol no," she replies. "Wait don't I already live in a tiny home lol."
"The house is just a tool." Says Miller. "Everyone gets you baby gadgets that require the square footage — [but] if our babies needed to rock, we are there to rock them."
Tiny living removes some of the difficulties of parenting, according to Davis, because you can see your children from everywhere. "There isn't that [moment where] you're making lunch and it's quiet and your soul kind of goes hmmm what are they doing," she says, "we don't have that in our tiny house."
The idea of selling your belongings and quitting your job to raise your children in a tiny home initially seems way out there, but when you speak to the parents living it, the motivations begin to hit closer to home.
"I hear a half-hearted, 'Oh, that would be fun,'" says Davis, or "'Oh my gosh I could never do that,'" says Davis, "and it kind of always is like 'I'm not telling you to do it, I'm just telling you I'm doing it.'"
Says Samantha Garlow in a blog post titled The Stigma of Moving On, "the concept of a forever home is fading." She mentions perennial inspiration Macy Miller, who "did the opposite of what one would expect" in downsizing further.
In short, these families, like you, are figuring out what is best for their families — shuffling their belongings, and commitments, and trying to find a way to piece together the family life that is right for them.
"Our path is based on what we want, but more importantly what will be best for him," says DeAngelo of her son.
A few days later, I scroll by one of her Instagram posts that reads, "Hold those little ones close and let them be the reason, not the excuse."
Check out Romper's new video series, Romper's Doula Diaries:
Watch full episodes of Romper's Doula Diaries on Facebook Watch.