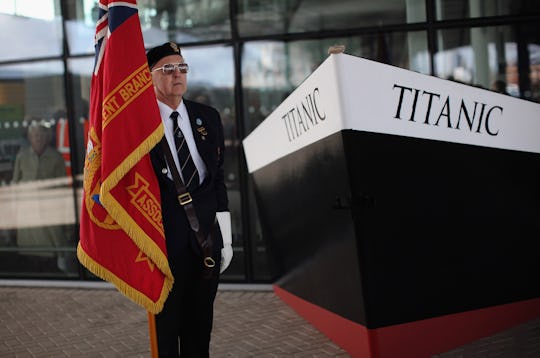 Dan Kitwood/Getty Images News/Getty Images
Titanic II Will Take To The Sea In 2022, But Twitter Isn't Lining Up To Buy Tickets
One scene in particular from the 1997 film Titanic will forever be etched the minds of millennials: Rose lying on a floating door in the Atlantic Ocean with Jack holding on for dear life in the frigid water. The wildly popular movie was both a terrifying and a heartbreaking look into the real-life tragedy of a ship by the same name sinking back in 1912. Which is probably why people are scratching their heads over a replica that's currently being built. Because as it turns out, Titanic II will make its first voyage in 2022, and Twitter reacted with a collective, "Nope."
As USA Today reported, the Titanic II is scheduled to make its maiden voyage in 2022, after construction of the replica recently resumed. The enormous ship will boast the same cabin layout as the original Titanic. And the similarities don't stop there. Apparently, Titanic II will travel from Dubai to Southampton, England, and then sail from Southampton, England to New York. So it'll be following the same route of the original Titanic that sank on April 12, 1912 — a tragedy that claimed more than 1,500 lives.
What could possibly go wrong, right?
Here are even more erie deets. The Titanic II will carry 2,400 passengers and 900 crew members — which happens to be pretty much the exact number of people aboard the original Titanic that sank, USA Today reported. The good news is the ship will also be carrying enough life boats and life jackets for everyone, as well as additional safety features that should help protect those on board. So the chances of side-swiping an iceberg are pretty slim. And if it does, the life boat/life jacket situation is infinitely better.
There doesn't seem to be any information yet in regard to when tickets will be available for purchase, or how much they might cost. Then again, the project was originally slated to be finished in 2016 — and then in 2018 — before work on the Titanic II was stalled because of financial disagreements, according to The Australian.
From a marketing standpoint, I can kinda, sorta see why Blue Star Line would build a giant ship and name it Titanic II. Because history and nostalgia and all. On the other hand, naming a giant ship Titanic II and then re-tracing the route it took just seems like a bad idea, considering what happened to the original Titanic and all.
And to poor Jack.
And I'm definitely not the only person who is all like, "Yeah... Hard pass." Twitter has a lot of thoughts about another Titanic following the same path as the original. One Twitter user wrote, "They're really trying to make a boat and call it the Titanic II???!"
Another person tweeted, "To think I took years of history classes so we don't 'repeat our mistakes'..."
Yet another Twitter user wrote, "I'll take "oh hell naw!" For 1000 alex."
One Twitter user shared what it might look like if the Titanic II ended up sharing the same fate as its namesake: Passengers in the water holding up smartphones and recording the sinking ship. (It's funny... But it's really not.)
Look, even if I had the option of bailing on my responsibilities as a mom and taking a cruise on the Titanic II — and even if I somehow wouldn't be motion-sick the entire time — this mama says hell no. But I still have to wonder: Have they asked Celine Dion to perform on the ship? Because that would be the only tempting detail, for me at least.