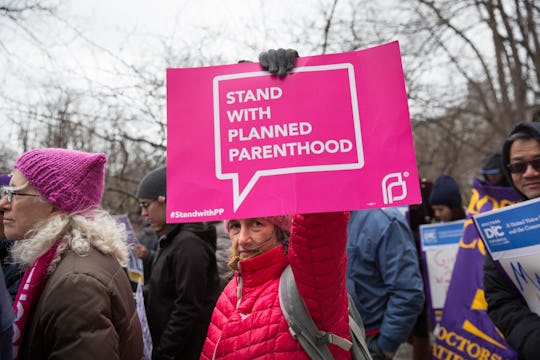 Kevin Hagen/Getty Images News/Getty Images
Title X Helps Families In This Unique Way
On March 24, the GOP's healthcare bill, the American Health Care Act (AHCA), went down in flames. The poorly-designed legislation that would have repealed and replaced the Affordable Care Act couldn't muster the support conservatives needed, so House Republicans pulled it from the floor. Most of the country rejoiced over the AHCA's defeat, but that was short-lived; less than a week later, Vice President Mike Pence cast the tie-breaking vote that rolled back Obama-era protections for family planning funding. In the end, though, the government will shoot itself in the foot, because Title X helps families in this unique way: It helps boost economic power worldwide. Without it, global economies could be stretched thin.
Research has shown that access to comprehensive and inclusive reproductive health care can fuel economic opportunity and growth around the globe. According to a 2011 Council on Foreign Relations report, lack of medical care driven by a dearth in Title X family planning funding can cause a person to have more children than "they can feed, educate, and keep healthy." Furthermore, they're less likely to work because their caregiving responsibilities are greater. Thus, people are forced to remain in poverty, which not only threatens the livelihoods of families, but can also put a strain on government budgets.
Of course, Pence's goal in reversing former President Barack Obama's rule protecting Title X funding has everything to do with Planned Parenthood and little to do with state control. The anti-choice vice president has led the charge against Planned Parenthood since 2007, first as a member in Congress. In that time, Pence has achieved some success in defunding the reproductive and sexual healthcare organization, but in piecemeal ways; his ultimate goal would have been a federal funding ban. But that dream got crushed when the AHCA went down, so the next best thing would be to attack federal Title X funds — an achievement executed through the arcane Congressional Review Act, according to Rewire.
But as Rewire reported, giving decidedly anti-abortion states like Texas or Mississippi the power to strip family planning clinics will only hurt people of color, people living in rural areas, and low-income families the most. According to the Center for American Progress, Title X funding drastically reduces the number of unintended pregnancies, unplanned births, and abortions in the United States. That means, as the National Family Planning and Reproductive Health Association pointed out, states save public health and taxpayer money; in New Jersey, services supported by Title IX funding saved the Garden State more than $199 million in 2010.
By undoing the Obama regulation, conservative lawmakers are removing a safety net that's helped many of the four million people that Title X has served from slipping further into poverty and relying more so on government services. Research only proves that conservatives' actions are the antithesis of what they want to achieve; abortion rates will go up by the double-digits and the government will spend more money on healthcare costs.
If Republicans really wanted to boost the economy and save taxpayer dollars, they would stop attacking the programs that work. But that's just nonsense, right?