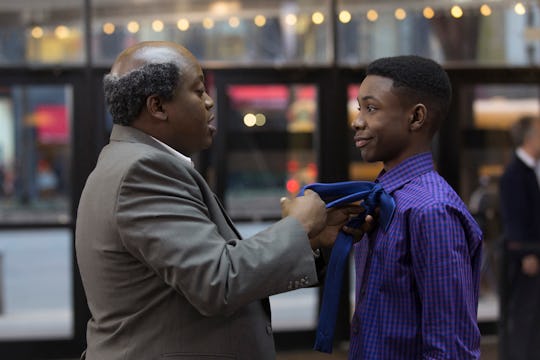 Eric Liebowitz/Netflix
Titus Andromedon From 'Unbreakable Kimmy Schmidt' Would Be A Great Dad, & Here's Why
Season 2 of Unbreakable Kimmy Schmidt finds its heroine slightly better adjusted to non-captive life than in Season 1, but the show's other characters begin to mature during the second season, as well. Titus Andromedon, Kimmy's friend and roommate, finally breaks free from his cycle of meaningless hookups and starts to give one special guy a real chance, with real dates and everything! Once he settles into a committed relationship, Titus starts to open up to the idea of kids, and, the truth is, Titus Andromedon would be a great dad!
In one episode in Season 2, Titus runs into a tween named Tyler at a movie theater who solicits his help in buying tickets to an R-rated movie. Titus has just come from participating in a medical trial where his clothes have been stolen, requiring him to don a respectable looking blazer and sweater vest out of the hospital lost and found. Titus looks positively paternal in the new look, and Tyler picks up on his dad-vibes.
Titus, taking pity on the kid who doesn't have much of a father figure in his life, starts dispensing the usual dad advice, like how to dress when you like a girl, and how to know when the time is right to kiss her. In spite of the fact that Tyler, like most kids when they don't get their way, turns on Papa Andromedon when the dates goes south, Titus can't shake the warm, fuzzy feeling of being needed, worshiped, and respected by a tiny human with a sponge-like brain.
He starts to seriously consider, thanks to a heart-to-heart with Lillian, life with Mikey as settled down, married dads. Here are five reasons why that dream should totally become reality: