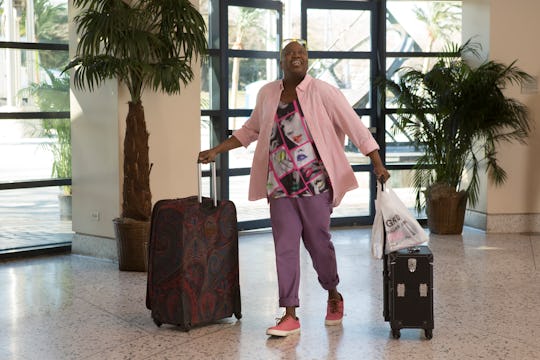 Eric Liebowitz/Netflix
Titus Delivered Another Show-Stopping Number On 'Kimmy Schmidt'
It's difficult to top a show-stopping number like Titus' iconic "Peeno Noir" performance in Unbreakable Kimmy Schmidt's first season, but Season 3 is really giving that performance a run for its money by incorporating a number of outstanding musical tunes at every opportunity. And Titus' "California" Song On Unbreakable Kimmy Schmidt was certainly no exception and served up yet another hilarious original for the show. The song is literally all about how great the West Coast is, though specifically in reference to the California region. Somehow this one, of all the songs Titus had to perform as a TaskRabbit on Season 3 Episode 4 was the one that gave him the biggest moral dilemma.
His employer for the day, a wonky musician/conspiracy theorist, had him sing dozens of different tracks, with content ranging from politics to euthanizing the elderly, but it was the song about living in California that had Titus unsure whether or not he wanted to continue recording. Luckily he did though, giving Unbreakable Kimmy Schmidt fans another original song that was not only funny to listen to, but hilarious to watch. It was the perfect combination of green screen and the requisite suntan lotion and beach fun that went so well with the ridiculous song. So it wasn't really surprising that it was also the song that made Titus throw up twice after singing, since no part of it aligned with any of his own feelings. (New Yorkers will defend their city to the death.) But, as he told Lillian, he really needed the money, so he caved in and sang about that wonderful West Coast life — full of beaches, booze, and boobs (yet another thing Titus has zero interest in).
Titus' "California" song on Unbreakable Kimmy Schmidt was the only one to make him physically ill and while it's hard to follow up on his Lemonade tribute, it was still executed perfectly. The episode also gave viewers a chance to see 30 Rock's Judah Friedlander make an appearance. Making him the musician working with Titus was an awesome Easter egg that I'm sure all hardcore 30 Rock fans appreciated. Titus' "California" song might not go down as one of his best, since nothing can quite compare to "Peeno Noir," but it's another musical number from Season 3 that will be good for a few more rewatches nonetheless. In other words, Titus can do no wrong.