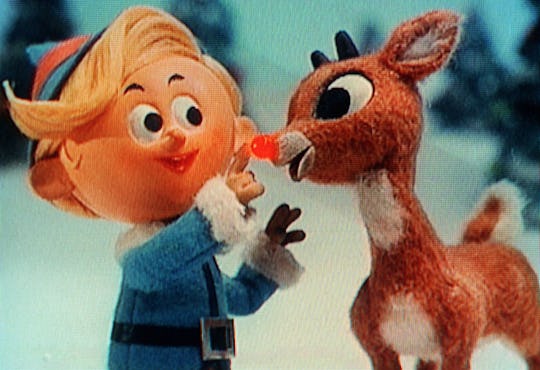 CBS
Sorry But 'Rudolph The Red-Nosed Reindeer' Is Still The Best Christmas Movie
In case you haven't heard, it turns out that Rudolph the Red-Nosed Reindeer, a stop-motion classic children's film based on the song of the same name, is problematic. A new video from HuffPost detailing the flick's various issues was shared on Nov. 28, following a recent TV airing. Look, I'm not here to debate anyone, but on this special day, I think I'm going to have to stick up for it. You see, today is the Rudolph the Red-Nosed Reindeer special's 54th birthday.
Like many of you, this movie played a big part of my childhood. Every year, my family and I would gather around the TV to watch a few of our favorite holiday offerings, including 1969's Frosty the Snowman. We also indulged in some Tim Allen hey-day appreciation by taking in The Santa Clause and Elf became a regular DVD viewing in later years. But, especially for my mother, Rudolph was the focal point.
In fact, one Christmas, we bought my mom her very own set of Rudolph figurines. While many families had manger scenes, my primarily Jewish household put the emphasis on the less-religious aspects of Dec. 25. The tiny reindeer, Santa, and other characters were just little plastic toys, but I remember begging my mom to let me play with them, acting out scenes for hours. She obliged, but really, these were her toys.
I never asked her why the Rudolph meant so much to her, but I assume it has something to do with when it was released. On Dec. 6, 1964, the special Rudolph the Red-Nosed Reindeer first aired on NBC, as part of The General Electric Fantasy Hour. Beginning in 1972, it has aired on CBS at least once each year. Not to age her, but these were my mother's formative years. The love of the special is now something that has been passed on to her kids, and is now ready to be passed onto her grandkids.
Because it's so special to me, it's hard to critique Rudolph as many others have, but I can see some of what bothers them. Remarks of the parallels to racism and homophobia certainly ring true — the fellow reindeer who bully Rudolph are pointing out differences in color and the way in which he "stands out" from the crowd with his bright nose. In particular, the scene in which Rudolph's father forces him to wear a makeshift black nose in order to be like everyone else is very harsh, and I remember it frightening me as a child.
But as the ladies of The View pointed out, it feels like critics are missing the message. Yes, Rudolph was bullied. Yes, it's cruel that they didn't care about him until he could help. However, the whole point of the movie is that even if you're different, you have a purpose. You're special. There will always be bullies, but if you fight back with positivity and show how great you are, you can show them up. At least, that's what I got from the movie. Which feels like a pretty positive message from a movie that's over 50 years old.
This first-time mom wants to have a home birth, but is she ready? Watch how a doula supports a military mom who's determined to have a home birth in Episode One of Romper's Doula Diaries, Season Two, below. Visit Bustle Digital Group's YouTube page for the next three episodes, launching Mondays in December.