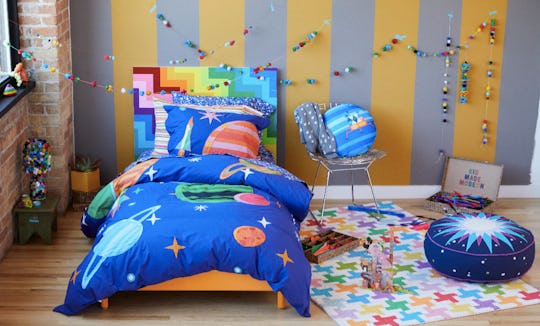 Courtesy Of Kid Made Modern
The Genius Behind Target's Coolest Crayons Designed The Cutest Furniture Line
When it comes to home decor, kids and parents almost never see eye to eye. Adults tend to have a certain aesthetic, whereas kids prefer, well, kid stuff like bright colors and fun shapes. But Todd Oldham's home line for Kid Made Modern is so delightfully designed that both children and adults will love it. Honestly? I want the fun barracuda throw pillow on my couch right now.
Founded in 2012 by renowned designer Todd Oldham, Kid Made Modern is a shop with tons of arts, crafts, and apparel choices for kids. The designer's whimsical, beautiful style has resulted in some gorgeous products, from diamond-shaped crayons to fluorescent patterned paper for collages. More than a few adult creatives have probably enjoyed these awesome art and craft supplies as well. Also, everything in the shop is gender-neutral, so all kids and parents can just focus on the art. It's a smart and refreshing approach to kid's goods.
Now, with the launch of the Kid Made Modern home line, that same artistic sensibility is found in pillows, quilts, rugs and wall decals that beg to be shown off. With outer space, woodland, and under the sea themes, these cool pillows and sheets would feel right at home in any kid's room.
The under the sea theme quilt is dazzling on its own, but there's all sorts of additional sheets and pillows that coordinate with it. Just check out this guy.
Next, there are two different space-themed duvets, and they're among the more affordable options in the line. But they still offer the same type of bold, kid-friendly designs.
A rocket-shaped throw pillow and satellite decals are just a few of the space-themed accessories. But the sheet set designs are out of this world.
If your kid loves animals, then the woodland theme is perfect. All of the friendly forest creatures and pretty plants look like something straight out of a picture book. Maybe you can make up your own stories about these awesome animals.