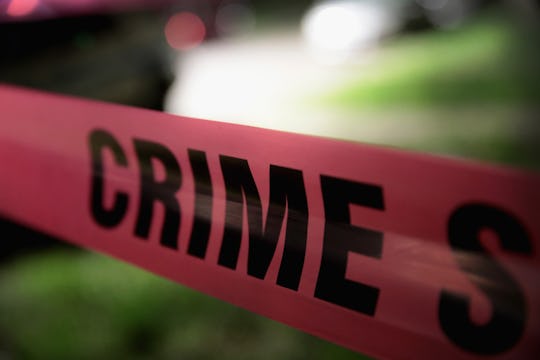 Scott Olson/Getty Images News/Getty Images
Toddler Shot By 3-Year-Old Brother With Mom's Gun
On Saturday afternoon in Colorado Springs, two brothers' afternoon of game of cops and robbers went horribly wrong when the older sibling, a 3-year-old, found his mother's gun unlocked in her handbag. The 3-year-old accidentally shot his younger brother, 2, who was quickly shuttled to the hospital after police were called. Fortunately, the toddler now appears to be in stable, although serious, condition at the hospital. The kind of incident that unfolded in Colorado over the weekend, however, is sadly far from unique — and the high number of accidental shootings involving children should serve as proof that the United States needs much stricter rules when it comes to regulating gun storage.
There were at least 264 reported shootings last year in which a child (under 18 years old) accidentally shot another person, according to Everytown for Gun Safety — and that's a number they believe is underreported. The victims of those shootings are often other children, as well, with many victims under age 10.
According to the Law Center to Prevent Gun Violence, approximately 1.7 million children live in homes where guns are not securely stored or locked away, making American kids 16 times more likely to be killed in an unintentional shooting compared to children from other similar developed countries.
That's 1.7 million children too many — but unfortunately, the United States doesn't do much to enforce safe gun storage. There are currently no federal standards for locking devices, according to the Law Center to Prevent Gun Violence, and Massachusetts is the only state that requires gun owners to store all firearms with a lock in place. Another three states — California, Connecticut, and New York — only require that firearms be locked up in certain situations. And less than one-quarter of states (in fact, only 11 of them in total) have any laws surrounding firearm locking devices.
In the Colorado Springs case that occurred this weekend, the mother of the two boys was arrested for felony child abuse, according to ABC's Denver Channel. Until her court case plays out, it's unclear what will happen to her — or her children, of which there are at least three. In similar cases — in other areas without strict gun laws — juries have opted not to bring charges against adults whose failure to lock up guns has led to children's death.
There shouldn't be any room for doubt when it comes to gun safety laws, and storing guns securely in a locked case shouldn't be up for debate, regardless of what state a person lives in or what party they belong to. A curious child should never be able to get their hands on a firearm, period. The Colorado Springs toddler may no longer be in critical condition, but his and his family's life will never be the same. And for many of the other hundreds of children involved in accidental shootings, the outcome of it all is much more tragic.