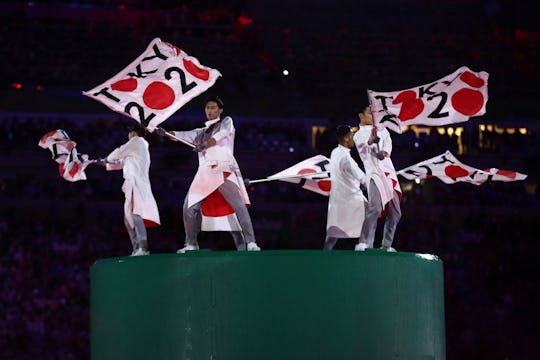 Cameron Spencer/Getty Images Sport/Getty Images
Tokyo 2020 Commercial During The Closing Ceremony Promises A Master Show
As the Rio 2016 Olympic games have officially ended, the International Olympic Committee passed on the host city honor to Tokyo, Japan, as they are set to play home to the next Summer Games in 2020. At the closing ceremony, the crowd and viewers got a stunning teaser for Tokyo's turn at the next summer Olympic host city. The Tokyo 2020 commercial during the closing ceremony offered a stylish, modern teaser of what's to come and it looks like it's going to be amazing. If you were feeling bummed about the end of Rio 2016, the 2020 Summer Olympic commercial will perk you right back up and have you asking, "Is it 2020 yet?!" Because wow — the Tokyo 2020 commercial promises one helluva show.
The Tokyo 2020 preview started out with a video, a jazzy hybrid of traditional and iconic locations throughout Japan, such as Tokyo Tower and the Senso-ji temple. The preview showcased the many summer Olympic sports and it was quite the classy montage of Japanese athletes and locations, with periodic hints at Japan's other cultural icons. The Tokyo 2020 commercial featured cameos of Hello Kitty and the popular anime character Doraemon, and even showed quick glimpses of Pac-Man chasing cherries through Tokyo. But from there, the Tokyo 2020 commercial transformed into something completely different.
Japanese Prime Minister Shinzo Abe appeared on screen, shown on his way to the Rio 2016 closing ceremony. With a quick flick of his wrist (bonus: promo shot of a fancy Omega watch — nice product nod to the official Olympic timekeeper), he realizes he won't make it to Rio on time. So what does Abe do? Transforms into Super Mario, natch. Abe/Mario then drilled one of the iconic green drain pipes from the Mario franchise through the Earth, with the other end popping up in the middle of the Maracana Stadium live at the closing ceremony. Abe emerged as Super Mario from the drain pipe, complete with bright red Mario hat.
From there, the Rio to Tokyo handoff performance segment continued live at the closing ceremony in Rio, as dancers performed a number of routines backed to jazz music. It was a pretty swanky affair, not going to lie. Sorry Rio 2016 — I know you were try'na put on a swag closing ceremony and all, but the Tokyo 2020 commercial totally stole the show Sunday night.