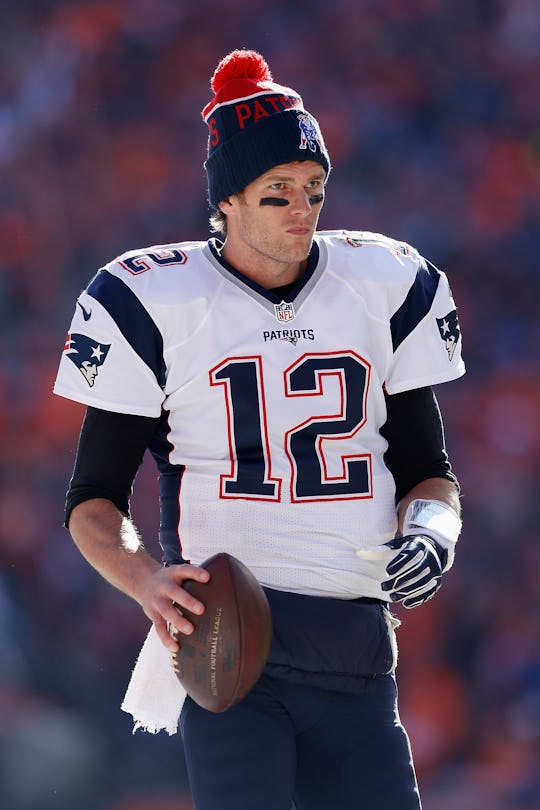 Christian Petersen/Getty Images
Tom Brady Booed At Super Bowl & It's Super Awkward
You guys. I didn't think there'd come a day when the Patriots were usurped from the Super Bowl, but the year has come, and I couldn't be more excited. (I'm a Giants fan, so sue me.) Yet after he came out of the tunnel with the rest of the Super Bowl's previous MVP players, Tom Brady was booed at Super Bowl as he walked onto the field. And no matter which team you support or which athlete you're in favor of, booing one of the sports greatest and most talented athletes is a really low, below the belt move.
Brady is notoriously one of the most involved and competitive athletes, and behind his expert experience he's taken the Patriots to the Super Bowl more often than not. Obviously fans are just showing their allegiance to the Panthers and the Broncos by booing the MVP arrivals, but nobody got the boo harder than Brady did, and that's saying something, considering he walked out behind the Ravens' Ray Lewis, who's alleged involvement with a 2000 murder has been the topic of tons of speculation over the years. Of course most fans at the game just mean the booing in jest (after all, the Broncos bested the Patriots in the final seconds of the game in order to move onto the next round and into the Super Bowl), but it's still a pretty low blow.
See if for yourself:
And Twitter had no shortage of reactions:
But I guess it's clear to tell not everyone was here for Brady tonight.