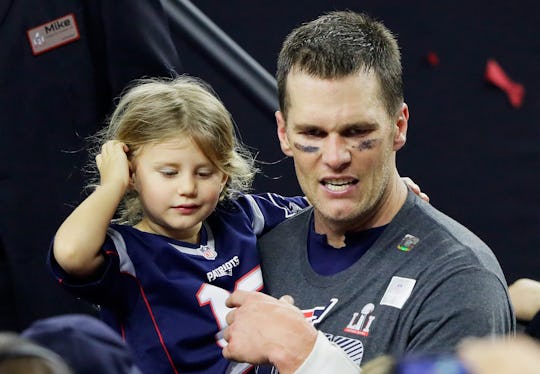 Jamie Squire/Getty Images Sport/Getty Images
A Radio Host Insulted Tom Brady's Daughter, & He Didn't Take It Lightly
Being a parent in the public eye can be intense, to say the least. Not only do many celebrity parents have to worry about keeping their kids' lives private, but there are also times when they have to address mean and unnecessary comments about their children from fans. Although kids should always be off-limits (famous parents or not) this simple notion is not often respected. Case in point: Tom Brady had to defend his daughter when a radio host called her "annoying" on Thursday, according to Newsweek. And needless to say, Twitter totally has Brady's back on this one.
On Monday morning, Brady phoned into WEEI's Kirk & Callahan radio show to discuss the upcoming Super Bowl. WEEI, a sports radio station in Boston, Massachusetts, has maintained a good working relationship with Brady throughout the years and the Patriots star has graced Kirk & Callahan numerous times before.
So, what went wrong during what was supposed to be a run-of-the-mill interview?
Apparently, Brady wasn't thrilled that Alex Reimer, a host at WEEI, called his 5-year-old daughter, Vivian Brady, an "annoying little pissant" during an episode of WEEI's Mut at Night with Mike Mutnansky that aired Thursday night, according to the Bleacher Report. Reimer made the offensive remark (pissant is defined as a "person or thing of no value or consequence," according to Dictionary.com) in reference to the opening scene of Brady's Facebook documentary, "Tom vs Time." In the scene that irked Reimer (in the audio of his comments, it sounds like he's straddling between faux, joking annoyance and actual annoyance), Vivian asks Brady if she can play soccer, according to NESN. Reimer did not immediately respond to Romper's request for comment.
You can listen to the audio of Reimer's comment below:
Although WEEI has suspended Reimer from the station indefinitely, according to WEEI's website, Brady is understandably still upset about the incident.
After Brady answered a question about the upcoming Super Bowl on Feb. 4, he told Kirk & Callahan's hosts, Kirk Minihane and Gerry Callahan, according to MSN:
Well, I think that — I've tried to come on this show for many years and have showed you guys a lot of respect. I've always tried to come on and do a good job for you guys, so it's very disappointing when you hear that, certainly. But my daughter or any child, they certainly don't deserve that.
And despite an apology from Minihane, Brady wasn't having any of it.
"I'll obviously evaluate whether I want to come on this show again, so I really don't have much to say this morning," Brady said before ending the interview, according to the Chicago Tribune. "So, maybe I'll speak with you guys some other time."
I think Brady handled this situation as best as he possibly could. For starters, he hit the nail on the head when he talked about "respect." Children shouldn't be attacked for entertainment purposes and no kid deserves to be called out, joking or not, in a very public forum. Kids are entitled to respect and kindness just as much as adults are.
Not to mention, Brady hit the nail on the head when he pointed out that Vivian didn't deserve to be treated so poorly. Vivian, who is completely innocent in all of this, didn't sign up for fame and all the downsides that come with notoriety. Vivian is no different from any kid who deserves privacy, even if her dad is super famous.
And it looks like Twitter agrees with my sentiments:
It's clear that many people, including sports fans who don't particularly care for Brady, support his defense of Vivian and his right to protect his kids from public scrutiny. At the end of the day, Brady is just like any other protective parent, and this is a sentiment any mom or dad can relate to.
Check out Romper's new video series, Romper's Doula Diaries:
Watch full episodes of Romper's Doula Diaries on Facebook Watch.