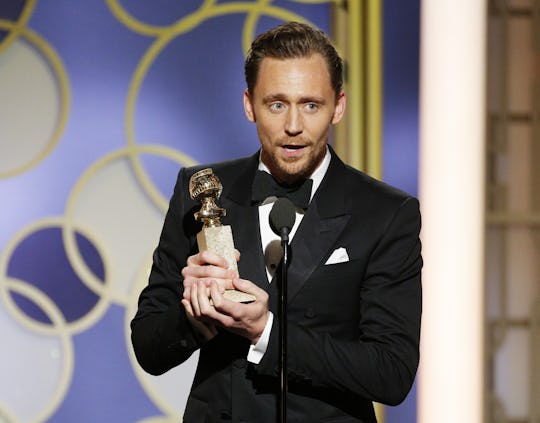 Handout/Getty Images Entertainment/Getty Images
Tom Hiddleston Says Nerves Got The Better Of Him
After delivering a somewhat unconventional acceptance speech at Sunday night's Golden Globes ― then receiving a considerable amount of backlash on social media from people who thought he trivialized the humanitarian crisis in South Sudan and used the opportunity to humblebrag about a recent trip to the country with the United Nations Children's Fund ― actor Tom Hiddleston apologized for his Globes speech on Monday in a Facebook post and acknowledged that his words "came out wrong" because he was plagued by nerves. While the 35-year-old actor's intentions to draw attention to the war-torn country were certainly noble and much-needed, it's understandable how some could have perceived them as awkward or self-indulgent.
During his speech, Hiddleston ― who won his first Golden Globe award for his performance in the crime drama TV series The Night Manager ― spoke about a recent trip he had taken to South Sudan with a humanitarian group and explained that a group of young men and women from Doctors Without Borders had approached him at a canteen to tell him they had binge-watched the award-winning mini series he stars in during a shelling that hit the world's youngest country last month.
In his speech, Hiddleston said he was "immensely proud" by the idea "that I could provide ― or that we could provide ― some relief and entertainment for the people who worked for UNICEF ... who are fixing the world in the places where it is broken." The British actor concluded the speech by dedicating his award to "to those out there who are doing their best."
Almost immediately after his speech aired on Sunday night, viewers took to social media to call out the actor for a speech that may have come off to many as egocentric or self-serving:
On Monday, in his apology, Hiddleston agreed that that his speech could have been expressed better, especially considering the gravity of the subject he wanted to address.
"I just wanted to say… I completely agree that my speech at the Golden Globes last night was inelegantly expressed," he wrote on Facebook. "In truth, I was very nervous, and my words just came out wrong."
He continued:
Sincerely, my only intention was to salute the incredible bravery and courage of the men and women who work so tirelessly for UNICEF UK, Doctors Without Borders/ Médecins Sans Frontières (MSF), and World Food Programme, and the children of South Sudan, who continue to find hope and joy in the most difficult conditions. I apologise that my nerves got the better of me.
Hiddleston's speech may have been awkward and his message certainly could have been expressed better, but this was only a brief moment in the grand scheme of things that did in fact bring more attention to the devastating conditions and problems currently facing those in South Sudan. Regardless of how it was delivered, more people are thinking about it today than they were yesterday, so for that, we thank you, Tom.