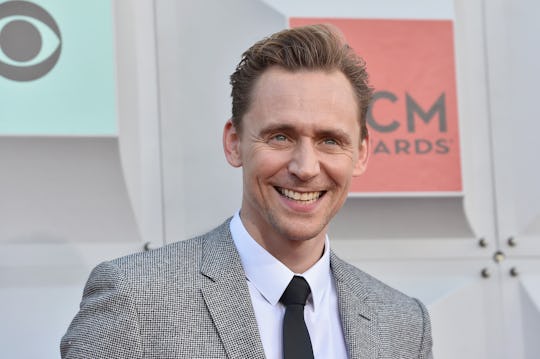 David Becker/Getty Images Entertainment/Getty Images
Tom Hiddleston's ACM Awards Appearance Proved Once Again That He's An Adorable Class Act
Who doesn't love Tom Hiddleston? Answer: no one. Following his stint playing legendary country music singer-songwriter Hank Williams, the British actor made an appearance at the ACM Awards ceremony where Hiddleston proved once again that his adorable class act was The Real Deal™.
"I feel like a guest at this party," Hiddleston joked, referencing his awkward position as an actor in a room of country musicians, before presenting the award for Entertainer of the Year to Jason Aldean. Aldean snagged the award for his work on his sixth studio album, Old Boots, New Dirt, earlier in the evening wowing the crowd inside the MGM Grand Garden Arena in Las Vegas with his new hit single, "Lights Come On."
Of course, Hiddleston isn't totally a stranger to the world of country music. To study up for his role as Williams, BBC America reported that Hiddleston stayed with country singer Rodney Crowell for at least a month, practicing Williams' gait and learning his music. According to Crowell, all that hard work paid off.
"I asked Tom if he'd like to join us onstage and sing 'I'm So Lonesome I Could Cry,' a Hank Williams song I'd heard him practicing on the bus," Crowell wrote in a Facebook post, describing an encounter from the duo's weekend at the Wheatland Music Festival around the same time. "I was surprised when he said yes and skillfully performed the tune before what must have been 1500 people. ... Later that night, with my band on the main stage, and with very little urging from me, he rendered a joyful version of 'Move It On Over.'... He admitted, rather boyishly, that he'd never in his life performed with a band and had loved it."
Hiddleston himself explained in an interview with Entertainment Weekly that the process of learning the ins and outs of classic country music had been an arduous one, but one that was worth the effort. "I remember doing 'Cold, Cold Heart' many times for Rodney and him asking me to go again," Hiddleston said. "He would say, 'The song sounds beautiful, but I can't hear the pain.'"
Hiddleston may have played himself off as something of an outsider on Sunday night, but if his own words are any indication, it seems he's caught the country music bug, just like everyone else. "I'm certainly a fan of Hank," the actor tweeted back in March. "His music will be with me forever."
If you were looking for a respectable, unbiased analysis of the country music world, Tom Hiddleston has, without a doubt, delivered — in his own characteristically charming way, of course.