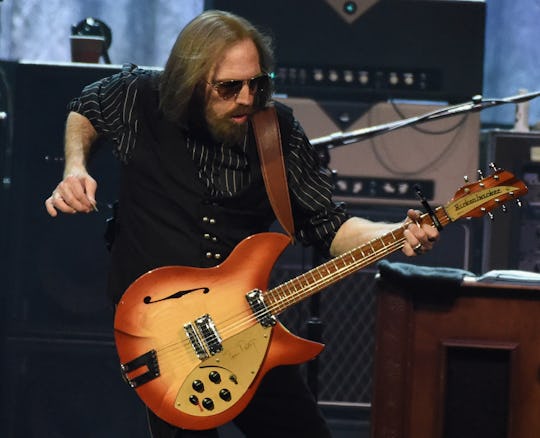 Rick Diamond/Getty Images Entertainment/Getty Images
Tom Petty Lyrics That Will Help You Get Through Another Devastating Loss
Early Monday afternoon, TMZ reported legendary rock star Tom Petty was found unconscious, after suffering full cardiac arrest, in his home in Malibu. CBS News later confirmed Petty passed away in UCLA Santa Monica Hospital after he was put on life support. The rocker, best known as the frontman of Tom Petty and the Heartbreakers, was 66. The loss is a devastating one not only to the music community, but to our collective culture at large, so here are some Tom Petty lyrics to help you get used to the idea of living on this earth without him.
Update: According to CNN, Tom Petty has died, after being placed on life support. TMZ originally reported that the musician had not died, despite reports, and was "clinging to life" earlier Monday night.
Earlier: Despite reports, Tom Petty has not passed away. According to TMZ, Petty is "clinging to life" but "is not expected to live throughout the day." In a tweet, the LAPD states it has no information about the passing of singer Tom Petty. We will update when there is more news about Petty's condition.We will update when there is more news about Petty's condition.
According to CBS News, Petty first rose to popularity in the 1970s with his band, Tom Petty and the Heartbreakers. Together Petty and his band produced an incredible list of memorable hits, including but certainly not limited to: "American Girl," "Stop Draggin' My Heart Around," "Breakdown," and "Listen to Her Heart." So, of course, the music community wasn't even a little bit shocked when Petty and his band were inducted into the Rock and Roll Hall of Fame in 2002, according to CBS News. Petty was also wildly successful as a solo artist, as reported by CBS News, as the singer of the "megahit" heard around the world and in ever karaoke bar, from Anchorage, Alaska (as can be confirmed by this Eagle, River, AK native) to Tokyo, Japan, "Freefallin'."
According to Rolling Stone, "Thomas Earl Petty was born in Gainesville, Florida, the son of an insurance salesman, on October 20th, 1950." Music was clearly Petty's calling, as he, according to Rolling Stone, dropped out of high school when he was only 17-years-old and with his sites on joining the southern-rock group Mudcrutch. The band broke up quickly after they moved to Los Angeles, California, but one fortuitous three-way emerged in the ashes of Mudcrutch: according to Rolling Stone, "the group's lineup featured two musicians Petty would collaborate with for much of the next five decades, guitarist Mike Campbell and keyboardist Benmont Tench."
And that, as they say, is the beginning of the end and how Petty was able to captivate the masses with not only his musical prowess and undeniably talented band, but with his lyrics. Here is just a sampling of Petty's lyrics that will, regardless, stay with us all. Forever.
You belong among the wildflowers/You Belong in a boat out at sea/You belong with your love on your arm/You belong somewhere you feel free. – "Wildflowers" (1994)
Here comes that feeling I've seen in your eyes/Back in the old days, before the hard times/But I'm not afraid anymore/It's only a broken heart. – "Only A Broken Heart" (1994)
I wanna glide down over Mulholland/I wanna write her name in the sky/I'm gonna free fall out into nothin'/Gonna leave this world for awhile. – "Free Fallin'" (1989)
"There's a dream I keep having/Where my momma comes to me/And kneels down over by the window/And says a prayer for me/Got my own way of praying/But everyone's begun/With a Southern accent/Where I come from." – "Southern Accents" (1985)
"Well, she was an American girl/Raised on promises/She couldn't help thinkin'/That there was a little more to life somewhere else/After all it was a great big world/With lots of places to run to/And if she had to die tryin'/She had one little promise she was gonna keep." – "American Girl" (1977)
"Well I won't back down/No I won't back down/You could stand me up at the gates of hell/But I won't back down." – "I Won't Back Down" (1989)
None of us are long for this world, that much is certain, but one thing is undeniable: sometimes we've come across, either in person or through music, people who will stick with you forever. Whether it's something they've said, done, or created and shared with millions of us, there are the rare humans among us who will live in forever. Tom Petty is one of them.
Watch Romper's new video series, Romper's Doula Diaries:
Check out the entire Romper's Doula Diaries series and other videos on Facebook and the Bustle app across Apple TV, Roku, and Amazon Fire TV.