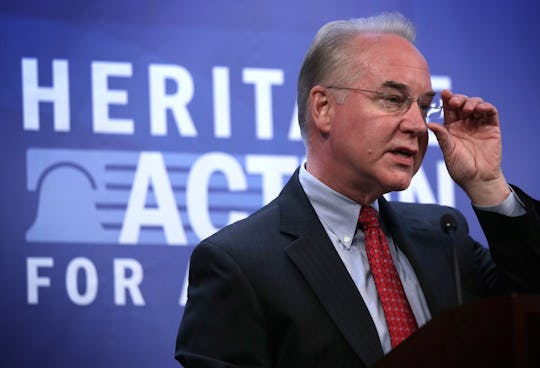 Alex Wong/Getty Images News/Getty Images
Tom Price's Obamacare Replacement Plan Would Actually Hurt Low-income, White Voters
Tom Price, the chosen secretary for Health and Human Services in President-elect Donald Trump's forthcoming administration, has his eyes set on repealing the Affordable Care Act. With the intention of downplaying governmental intervention in healthcare, Tom Price's Obamacare replacement plan would reportedly end up hurting a sect of voters who were key in electing Trump to office. As proposed, Price's drastic Obamacare cuts would impact low-income white voters, leaving many of them without any coverage.
At The Washington Post, Greg Sargent explains Price's perceived goal, saying that, by and large, "Conservatives want far less in government spending and regulations designed to cover poor and sick people, protect consumers, and enforce a minimum standard for coverage." These aims, however, necessitate "far lower standards" in what is provided. The 242 page plan that Price has developed, called the Empowering Patients First Act, "provides significantly less help to those with preexisting conditions than other Republican proposals," Vox notes. Various limitations, including Prices's "full repeal of the Medicaid expansion ... that currently covers millions of low-income Americans" (Price has reportedly offered nothing to replace the repealed expansion), are established with the stated purpose of giving citizens the "freedom to make health care decisions without bureaucratic interference or influence," Price has stated. Representatives for Trump's transition team did not immediately respond to a request for comment on the report.
Price's plan also differs from our nation's current healthcare policy in how aid is distributed, offering a tax credits plan which creates categories by age, not income (as Obamacare does). Thus, the following brackets would be established:
$900 for children under 18
$1,200 for those between 18 and 35
$2,100 for those between 36 and 50
$3,000 for those 51 and older
Essentially, regardless of one's income or need, limits are non-negotiable; A 40-year-old low-income voter is given the same credit as a 40-year-old billionaire.
As mentioned, Medicaid expansion — which has currently extended coverage "to everyone at or below 138% of the federal poverty level," or $16,394 for a single person and $33,534 for a family of four — would be no longer. Thus, impoverished families would be subject to the same, fixed tax credits, distinguished by age.
Price, a Georgia congressman and physician, has rallied against Obamacare since its inception, explaining: "Many Americans lost the health coverage they were told time and time again by the president that they could keep. Choices are fewer." In accepting Trump's nomination, Price noted that his Obamacare replacement plan would "protect the well-being of the country while embracing its innovative spirit," though it's unclear how, exactly, his proposal protects the well-being of low-income Americans. Whereas it's almost guaranteed that a Trump presidency will enact massive change for his supporters, it's unclear whether that change will even benefit the very people who voted in favor of it.