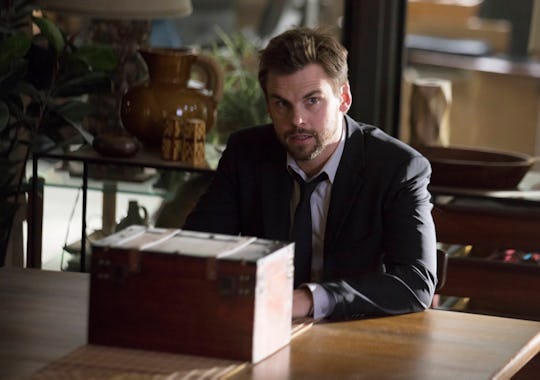 Greg Lewis/Hulu
'Casual's Tommy Dewey Loves Working With Female Directors
As much as I would love to believe that the gap in gender equality is getting smaller and smaller as time goes by, sadly, that doesn't seem to be the case, especially when it comes to Hollywood. In fact, according to a report from the Center for the Study of Women in Television and Film at San Diego State University, women made up only seven percent of all directors working on the 250 highest-grossing domestic releases in 2016. But thanks to shows like Casual, which stars Tommy Dewey as Alex Cole, female directors are being given a voice the industry desperately needs to include throughout filmmakers by incorporating the voices of women both in front of and behind the camera.
"Almost all of the other powers-that-be in the show are female and we're better for it," Dewey tells Romper in an interview. "We just got some of the best indie film directors, who don't do a lot of TV, to come play on the show." These women include the likes of Gillian Robespierre, who directed the 2014 hit film Obvious Child, Carrie Brownstein of Portlandia fame, and Lynn Shelton who has directed various episodes of New Girl, The Mindy Project, and Master of None, just to name a few. But what's even more impressive is the fact that nine of Casual's 13 episodes for Season 3 were directed by women. That means 70 percent of the season is being directed by women, versus the disparaging 7 percent the industry as a whole tauts. Casual is making progress.
Dewey admits he loves working with female directors. "It's just been some of the best experiences of my creative life," he explains. "I should credit Helen Estabrook who kind of runs the hiring of the directors. She's an executive producer on the show and it was a goal of hers to really involve female voices this year and always." For her part, Estabrook told Romper that promoting female filmmakers now isn't actually that hard. She says:
Of course it's always important to me to support and promote the work of female filmmakers, and it's easy to do that right now because there are so many women doing amazing work in the indie film world. We were just so lucky to have some of the best directors working today lend their voices to Casual this season.
As for what else contributes to Casual's tremendous success (The Hollywood Reporter has referred to it as a "don't-miss gem"), Dewey thinks the flaws of all the characters are a big part of what makes them so relatable — and therefore, so extremely likable. "I think writers and artists for a long time have always wanted to represent a more real human experience, but just haven't gotten the opportunity because there were certain rules as recent as five years ago," says Dewey, referring to how so many characters can come off as somewhat fake rather than flawed and dysfunctional human beings (or, reality). "They see themselves in those characters," he adds, noting that real people don't see themselves in the person that is "nice and good," which are two of the most beige descriptors a character could ever receive.
And he's not wrong. No human being is perfect, so it's refreshing to see characters make mistakes and reflect the kind of chaotic and downright messy scenarios we all face on a daily basis. And in the end, it's what makes the series so much more than a casual viewing experience. It makes it important.