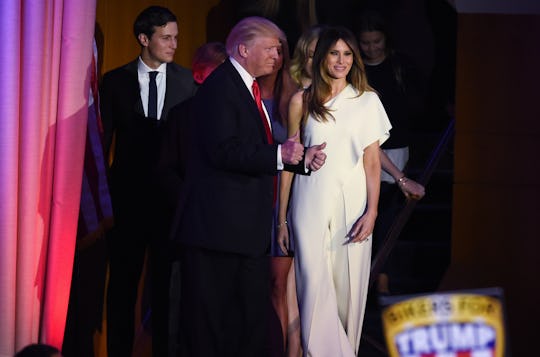 TIMOTHY A. CLARY/AFP/Getty Images
Tommy Hilfiger Defends Melania Trump & Says Designers Should Be "Proud" To Dress Her
President-elect Donald Trump ran a campaign that alienated many in the fashion industry. Consequently, some designers have publicly spoken out about their reservations on dressing his wife, future first lady Melania Trump. But on Monday, designer Tommy Hilfiger defended Melania Trump, and said that designers should be "proud" to dress her, urging other designers not to get "political" about it.
While speaking to Women's Wear Daily at the Angel Ball about dressing Melania Trump, Hilfiger said,
I think Melania is a very beautiful woman and I think any designer should be proud to dress her. Ivanka is equally as beautiful and smart, although she wears her own clothes. I don't think people should become political about it. Everyone was very happy to dress Michelle [Obama] as well. I think they look great in the clothes. You're not gonna get much more beautiful than Ivanka or Melania.
Hilfiger's opinion comes as a sharp contrast to that of French designer Sophie Theallet, who dressed first lady Michelle Obama. Theallet took a public stance against dressing the future first lady in a letter she posted to social media, saying that "as one who celebrates and strives for diversity, individual freedom and respect for all lifestyles," she refused to dress or associate with Trump, particularly noting her issue with the "rhetoric of racism, sexism and xenophobia unleashed by her husband's presidential campaign."
Other designers have been more cautious on the matter of an outright ban, with Jeremy Scott telling Vanity Fair, "I'm going to give Melania the benefit of the doubt," even as he noted his sadness that her husband won the election. Still others haven't spoken publicly about the matter at all, with The New York Times reporting that an anonymous fashion designer preferred not to speak up yet, but pretended he didn't receive a request from the Trump family to borrow a dress.
For better or for worse, the issue of a first lady's fashion has long been an important one. At the National Museum of American History in Washington D.C., the "First Ladies" exhibit mainly revolves around their gowns. First ladies have used their fashion choices to make statements, as with Michelle Obama's insistence on supporting independent, inclusive American designers.
The fashion industry is made up of many women and gay men, two groups of people who potentially stand to suffer if the president-elect and his vice president, Mike Pence, are able to act on some of their campaign promises and past views.
At least the future first lady has Hilfiger (who, by the way, is a straight white man). And if all else fails, she can always borrow a dress from Ivanka's line.