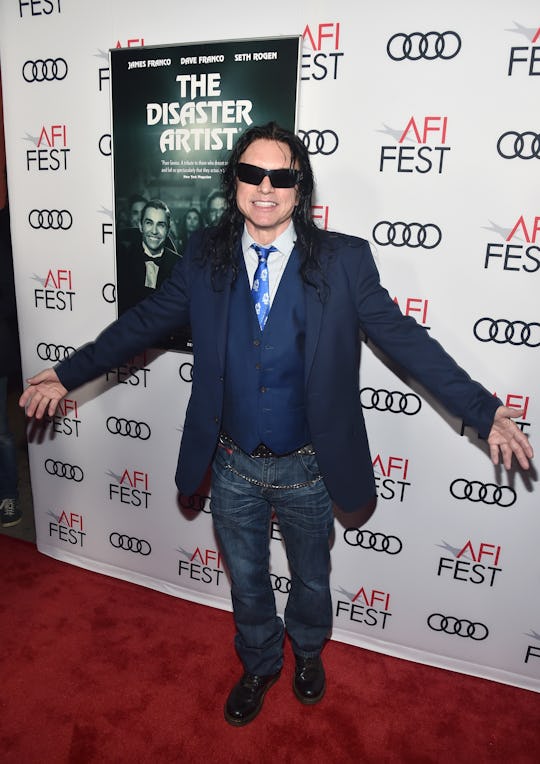 Alberto E. Rodriguez/Getty Images Entertainment/Getty Images
Tommy Wiseau At The Golden Globes Has 'The Room' Fans Absolutely Losing It
To say Tommy Wiseau has a cult following is putting it lightly. Ever since Wiseau put out the The Room in 2003, people have been obsessed. So, it's only natural that Tommy Wiseau at the Golden Globes has The Room fans absolutely losing it. In fact, one might argue that Wiseau is the breakout star of the entire show.
In case you aren't familiar with Wiseau, he's best known as the guy who put out the best worst movie ever, aka The Room. To sum it up in a few brief sentences, the movie is about a successful banker in San Francisco who loses his fiancée to his best friend. But, as with most masterpieces, The Room is about a lot more than what meets the eye. To say the film is about an affair is not doing the work justice. And if you're true champion of Wiseau, reducing the work to such a tired plot is a straight up offense.
It's hard to sum up what The Room is actually about, because I'm not exactly sure Wiseau himself knows what it's about. But what is clear, however, is why it's so beloved by countless people.
Since there's so much to cover about what's so amazingly bad about the movie, I'll just list a few examples: exceptionally long (and confusing) sex scenes, a mind boggling narrative structure, and a tired setting (most of the movie literally takes place in room). In short, it's the gift that keeps on giving.
And if you're wondering why a movie was made about The Room, look no further than Wiseau, a quirky 62-year-old dude from Poland. There's so much to say about Wiseau, but in a nutshell he's a quintessential underdog who also happens to be a mythic-like character in Hollywood. Not only did Wiseau blow $6 million of his own money on The Room, according to People, but he also put his heart and soul into the movie.
So, when James Franco decided to team up with Wiseau to make The Disaster Artist (Franco plays Wiseau in the tribute), no one really blinked an eye. It just seemed right, you know? Wiseau and Franco are both unique characters in Tinseltown, and they're both passionate about art and film.
Although many people didn't know exactly what to expect from the collab, it ended up being a powerful take on following your dreams and never giving up (I know that sounds cheesy, but it's totally true). It also snagged a Best Musical or Comedy Motion Picture nomination at the Golden Globes, and Franco was nominated for Best Actor in a Motion Picture Musical or Comedy for his portrayal of Wiseau, which he won Sunday night.
Of course, Franco brought Wiseau up on stage with him to accept the coveted award, and it was a very emotional moment for his fans. Standing on stage alongside Franco, Wiseau was no longer a laughing stock or failure. Wiseau, in all of his glory, finally had his moment in the sun.
With that being said, here are the best reactions to Wiseau's triumph:
Unfortunately, Wiseau's crowning moment wasn't without controversy. Although Franco told the audience that the movie was about "friendship" and the he learned a lot from "friends and collaborators," according to E! Online, he didn't let Wiseau speak during his acceptance speech. And needless to say, a lot of people we not happy about it.
Personally, I think Wiseau fans shouldn't be too upset about the supposed snub. Wiseau might turn the moment with Franco into another cinematic masterpiece, after all. Given Wiseau's track record, I don't think it's out of the realm of possibilities.
Check out Romper's new video series, Romper's Doula Diaries:
Watch full episodes of Romper's Doula Diaries on Facebook Watch.