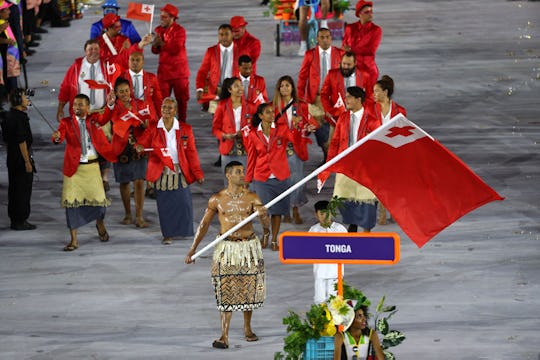 Paul Gilham/Getty Images Sport/Getty Images
Tonga Flag Bearer Memes & Tweets From The Olympics Opening Ceremony Are Brilliant
During the Olympics opening ceremony on Friday night, viewers were, um, blinded by Pita Nikolas Aufatofua, the flag bearer for the country of Tonga. What was so shocking about Aufatofua's arrival was how shiny he was — he was covered in oil, and of course, because he's a muscle-y athlete, people took notice. Tonga flag bearer memes and tweets from the opening ceremony are hilarious and brilliant, and they make it clear that people really only have one thing on their mind at any time.
According to Yahoo! Sports, Aufatofua will compete in Taekwondo at the Rio Olympics, and now everyone is going to figure out how to watch the Taekwondo competitions. Aufatofua was the first Tongan to qualify for the Rio Olympics back in March, according to Matangi Tongo Online. Twitter users who can't help but investigate someone who looks as though they've been dipped in baby oil also found out that Aufatofua is a model, because of course.
But Aufatofua's road to the Olympics wasn't easy. The Fiji Times reported that, throughout the course of his training, Aufatofua has suffered "six broken bones, three torn ligaments, three months in a wheelchair, a year and a half on crutches and hundreds of hours of physiotherapy." But Aufatofua told the Fiji Times that it was all worth it:
I don't have any regrets — I believe all these things I went through made me who I am, they made me stronger.
OK, OK, could this guy be any greater? Twitter had a field day when he came out as the flag bearer for his country.
Tonga clearly won the Olympics. Cancel all the events, send everyone home. There's no way you can beat that body oil.