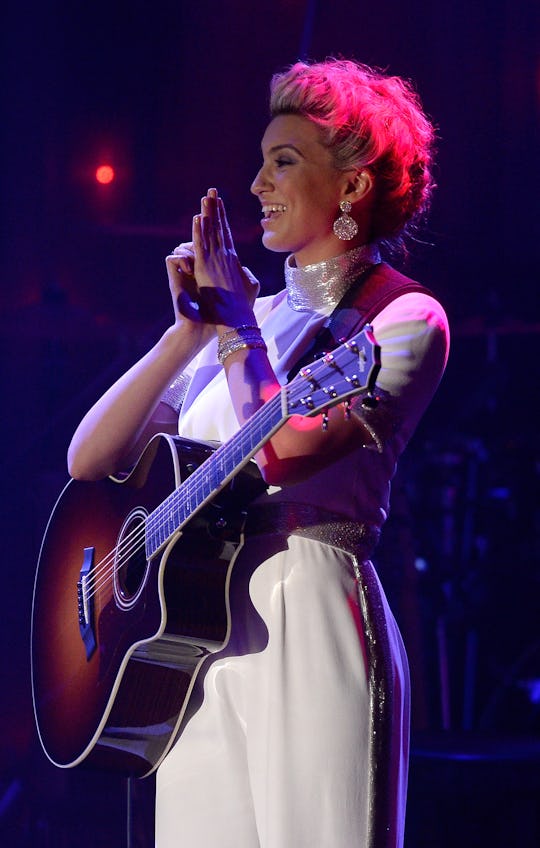 Kevork Djansezian/Getty Images
Tori Kelly & James Bay's Grammys Performance Will Make Them Both Household Names
This has been a very good year for Tori Kelly. After becoming a YouTube sensation for her soulful covers of other artists' songs and being eliminated from the ninth season of American Idol, her first solo album, Unbreakable Smile, earned her a Best New Artist Grammy nomination at this year's award show along with fellow nominee James Bay. Tori Kelly and James Bay's Grammy performance is sure to make both of them household names.
The two Best New Artist nominees did a mashup of each other's songs, including Bay's "Let It Go," and Kelly's"Hollow," in one of the more moving performances of the night. More than just the quality of the music, the pair's chemistry together was was made watching them on stage so much fun. They brought it tonight bouncing off of each other and even got a mid-song round of applause for hitting the high notes. It's no surprise they were able to make everyone swoon either — they've been spending a lot of time together during the past few week's rehearsals for Monday night's performance.
It helps that Kelly had been looking forward to the award ceremony. Last week, she told Forbes that she was "stoked" to perform with Bay, adding that another dream would be to perform with Stevie Wonder. But isn't that everyone's daydream, musician or not? She also told Forbes that "simply to attend the Grammys" was a childhood dream of hers. "... To be nominated in such a prestigious category is a huge honor," she gushed.
The two musicians recently did a Twitter Q&A with fans after rehearsal and were joking around with each other like two old friends, even poking fun of the official Q&A hashtag for being too long. (In case you're wondering, it was #GRAMMYsAskToriAndJames, which is definitely Kanye West-level long for the social network.) In addition to taking fans' questions, Kelly also joked with Bay that she was ready to party hard on the red carpet, tweeting that she was "gonna photobomb" as many stars as humanly possible. Bay was all-too ready to be her wingman, but teased that he was nervous about navigating the red carpet with the official "map." They're too cute together, right?
Both of the Best New Artist nominees seemed perfectly ready to go by Monday afternoon, with Bay tweeteting "GRAMMY TIME" in long form, seemingly adding nearly every single excited emoji he could find in his phone. The duo made sure to channel that rightful enthusiasm into their performance tonight as well, proving that being the new kids in town isn't always such a bad gig.