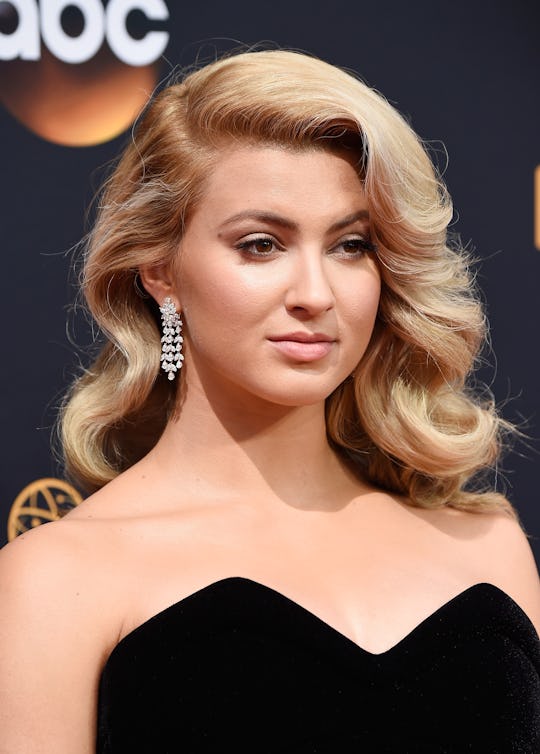 Frazer Harrison/Getty Images Entertainment/Getty Images
Tori Kelly's Emmys Performance During The Memorial Segment Was Bittersweet
The Emmys aren't exactly known for music, but on Sunday night a performance were a welcome break from the statue distribution. Tori Kelly's Emmys performance during the "In Memoriam" tribute on Sunday was one of the stand outs. She announced her appearance during the show the a week before on Twitter saying that she was "honored" to be included in the awards show. She began her performance with an acoustic version of "Hallelujah," a folk song that everyone from Leonard Cohen to Jeff Buckley has covered. It was a bittersweet way to remember all of the actors that the Television Academy had lost this year.
The tribute was introduced by Henry Winkler, honoring director Garry Marshall, Gene Wilder, Garry Shandling, Muhammad Ali, and George Martin, among many other iconic actors and actresses.
It's been a very busy year for Kelly. She was nominated for Best New Artist at the 2016 Grammys (but lost to Meghan Trainor) and also performed a duet there with fellow newbie, James Bay. She will also be lending her voice to Sing, an animated film set to be released this December with Reese Witherspoon, Scarlett Johansson, John C. Reilly, Taron Edgerton, Seth MacFarlane. If you didn't have Kelly on your radar before, it's likely that among her nominations, performances like Sunday's, and the holiday film, she'll have you singing in the kitchen for the rest of the year.
On Sunday, Kelly seemed to enjoy herself, but she became a bit of a meme during the 2016 Grammys for looking uber-bored and unimpressed with Taylor Swift. While Swift gave her now famous speech after winning Album of the Year, a camera pan to Kelly in the audience found her grimacing pretty hardcore. It might have been performance jitters or that she was still hurting from losing Best New Artist to Trainor, but Kelly took over social media for her pout, or just really didn't think Swift's girl-power speech was all that good.
Or just a bad candid moment. She later tweeted, "I loved every moment of last nigh. I cant express how thankful I am. Here's to the next chapter." She also tweeted about her performance with Bay earlier in the night, writing, "It was such a pleasure sharing the stage with you incredibly talented gentleman." So there wasn't too much love lost on Grammy night.
On Sunday, she seemed to be having a great time, though (or she was better at remembering that cameras are on everyone in the audience at all times). Her performance of "Hallelujah" was the perfect song to accompany the memorial segment of the show. It could always be cheesy but her performance was tactful and right on point.