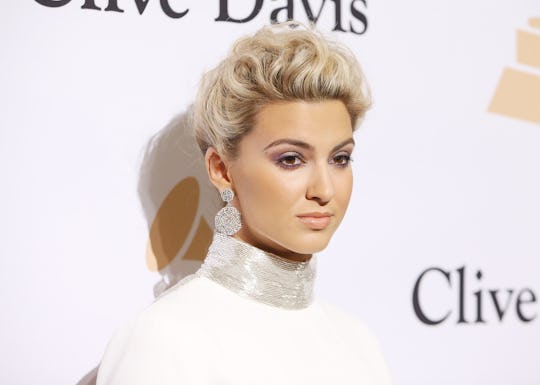 Michael Tran/Getty Images Entertainment
Tori Kelly's Grammys Dress Was Classic & Effortlessly Cool
Tori Kelly isn't singing acoustic covers on YouTube anymore, which is sad because they were great, but also good because she is a star. On Monday night, Kelly walked the red carpet at the 58th Annual Grammy Awards, and she definitely didn't look like an undiscovered YouTube star. Kelly, who's 2015 album Unbreakable Smile had a number of hits that just wouldn't budge from the top 100 lists, looked amazing when she walked down the red carpet. Tori Kelly's Grammys dress was a beautiful bright green, and it looked stunning on her.
Kelly was nominated for Best New Artist, and she told Forbes that attending the Grammys was a childhood dream of hers. She said her publicist had called her very early in the morning a few weeks ago with the news:
Well, it was 5 a.m. so I was in bed, and I got woken up by my publicist, who was freaking out over the phone. I was half asleep and speechless. I didn't fully comprehend what had happened!
Kelly's competition in the Best New Artist category is Meghan Trainor, James Bay, Sam Hunt, and Courtney Barnett, according to Forbes. Kelly said that she's good friends with Trainor and Bay, but that she thinks all of the artists in the category are stiff competition.
Regardless, Kelly truly stunned on the red carpet. Her gown was the epitome of "I've-made-it" level cool. Cue the endless "green with envy" jokes on Twitter (they were plentiful on Monday night).
Kelly was seen posing with rapper Big Sean on Monday, but not because the two were dating. Sean actually remixed one of Kelly's singles, "Hollow," in November, according to Billboard magazine. Not only is Kelly up for an award during the Grammys, but she will also be taking the stage with James Bay, according to CBS News. Kelly told CBS that she's been hoping to collaborate with Bay, so this opportunity was perfect:
I've been a fan of his for a while, I've been wanting to collaborate with him. We're doing a kind of mashup of both of our songs. We've met a few times over the past year at different events, we've gotten pretty close, and we wanted to collaborate.
Kelly told CBS, to many fans' joy, that she and Bay will not have a band playing with them during their Grammys performance:
...I think we're going to do this in a pretty stripped down style. It's how I always envisioned performing on the Grammys. For both of us, we both enjoy just being with our guitars and stripping it down.
Get ready for a stripped down, beautiful performance from Kelly and Bay.