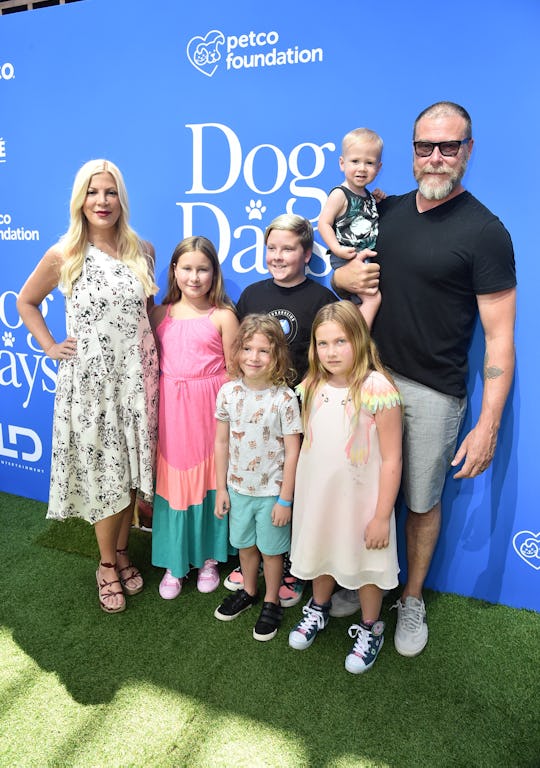 Alberto E. Rodriguez/Getty Images Entertainment/Getty Images
Tori Spelling Has No Time For The Insta-Shamers Who Attacked Her Kids
Dealing with online bullies who go out of their way to make negative comments about you is one thing, but what happens when the trolls go after your children? Raising kids in the digital age is an entirely new, uncharted terrain for many parents, and that's why it's so important to be clear about what behavior will and won't be tolerated online. Tori Spelling has some words for people who shame her kids' appearances on her Instagram account, and she makes a really good point about how sad it is to see adults acting so immaturely.
People reported on Friday that fans and followers started leaving a slew of negative comments on a post Spelling uploaded on Wednesday. As many moms do, Spelling shared a photo of her four oldest kids on their first day back to school. "School officially began today for my 4 older kiddos... This marks the first year that they'll all be in the same school at the same time," she wrote. "You know what that means? For one year and one year only ONLY one drop off = happy mom. And, Finn started Kindergarten at his new school and felt so proud to be at his big boy school with his older brother and sisters."
Immediately, people started commenting on her kids' appearances in the photo. "The kids are fat. Fat isn't healthy," a person wrote. "They look a hot mess," said another. "The truth is your children are overweight. Is that being negative or stating a fact?" added another user.
However, the negative jabs at their appearances were quickly drowned out by literally hundreds — if not thousands — of supportive comments from other mothers and fans who not only argued that you should not be shaming how a child looks online, but that as a whole it is impossible to encourage our kids not to bully one another while adults display such behavior all the time.
"And we wonder why children become nasty bullies? How can they not with despicable parents like these so called 'helpful' commenters bullying these 4 little kids for literally looking like KIDS!" said one commenter. Added another: "I'm ashamed of the moms bashing seriously what is wrong with you. If it were you are your kids being picked on you would not like it. People need to grow up. Tori thank you for sharing your beautiful family with us!"
However, Spelling then felt the need to also respond to the comment section, letting people know that not only was this type of language unacceptable, but that they should be ashamed of themselves for speaking so negatively about her children.
I am a proud mama bear and I enjoy sharing our family journey with my family, friends, fans and online supportive and loyal community... For all the individuals on here that felt the need to #momshame and #kidshame me and my children I say 'Shame on you!' I was raised to believe that if you can't say anything nice about someone then don't say anything at all.
After a literal lifetime in the spotlight, Spelling is accustomed to the challenges of being in the public eye. Despite how unfairly she and her family can be treated, she often tries to focus on the positive. She told People in 2016 that she was thrilled to welcome her fifth child, Beau, whom she called a surprise "bonus baby."
"I'm totally healthy and safe. I am 100 percent healthy!" Spelling said. "The condition I had with my last pregnancy, the baby and I got checked out when we first found out and not only does it not exist but it cannot exist. So we are going to have a happy and healthy pregnancy together!"
It's clear that, despite whatever challenges they may face, Spelling and husband Dean McDermott have done an amazing job building their family, and are committed to not allowing other people's negativity to get them down.