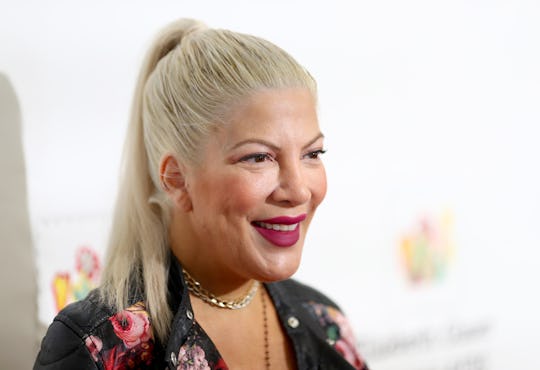 Joe Scarnici/Getty Images Entertainment/Getty Images
Tori Spelling Is Being Mom-Shamed For Letting Her Daughter Wear Makeup, & OMG, Enough Already
One fringe benefit of the holidays is a flurry of celeb family photos. Be it gathered around delicious looking table spreads or in front of gorgeous Christmas trees, these photos often offer a peak inside famous families' lives. But with exposure comes criticism. Case in point: Tori Spelling is bring mom-shamed for letting her daughter wear makeup to Thanksgiving dinner, and it's down right ridiculous.
Spelling shared a few photos from her family's Thanksgiving dinner celebration on Instagram Sunday. The post was intended to express her gratitude for the large family that she had gathered, including Scout Masterson and Bill Horn and their two children. This year was baby Beau's first Thanksgiving with the family, which is cause for celebration on its own.
The photos came with a heartfelt caption, expressing the big love that comes with a big family:
Beau celebrated his 1st Thanksgiving with his family. And, had his first taste of Sweet Potato & Marshmallow Casserole ... Together we have formed a family that's untraditional. All of us were not born family but a family bound together by love and choice. Untraditional families are the new tradition and we look forward to celebrating our created family as we grow thru generations and generations ... Grateful for my big extended family and all the special moments we get to create together.
Despite the good intentions behind Spelling's post, commenters, as they do, managed to find some things to criticize. The point of most contention: Spelling's 9-year-old daughter Stella McDermott wearing makeup to dinner. One of the photos included in the post was a sweet selfie of mama and daughter wearing what looks like matching lipstick. The lipstick rubbed a few people the wrong way, specifically because of the girl's age. One user wrote, "Stella is too young for dark lipstick!" Another echoed her concerns, saying, "Why does your daughter have makeup on?? She is to [sic] little!!!"
This isn't the first time that people have expressed concern over little Stella's choice in makeup. She mirrored her mom's signature red lip look when she was as young as 6-years-old, according to Radar. The outlet reported that Spelling allows her daughter to wear makeup and high heels, even when she and mom aren't playing dress up, and it's concerned some of Stella's friends' parents.
Stella also sported red lips in a Father's Day appreciation post on Spelling's Instagram, and it definitely raised a few eyebrows. An unnamed source close to the family told Daily Mail U.K. that parents continue to have an issue with the freedoms that Stella enjoys:
Problems have arisen when Stella has other friends over to the house, and her girlfriends — who arrived wearing no makeup — leave with it on ... Typically, Stella and Tori frequent a Sephora store close, where the girl is allowed to pick out her favorite colors.
The decision about when to start letting kids wear makeup is a personal one, and, frankly, it's no one's business but the family's. It is certainly understandable for parents to be uncomfortable with their own children coming home with makeup on when they didn't leave that way, but there are much worse things that could happen than a little lipstick.
Parenting Expert Jan Faull explored the issue of children and makeup in an article for Parents. In response to a mother asking if a 10-year-old is mature enough to wear makeup, Faull wrote:
Makeup, hair styles, and clothing are the gray areas in parenting -- there are no hard-and-fast rules. Each parent-and-child pair needs to settle on certain parameters without resorting to heated arguments, which will only hurt the parent/child relationship, most likely making the issue bigger than it is.
All signs indicate that Spelling and her daughter have settled on their own parameters as Faull recommends. The fact that they are looser than what other parents may favor is no one's business and certainly doesn't warrant mom-shaming.
Check out Romper's new video series, Romper's Doula Diaries:
Watch full episodes of Romper's Doula Diaries on Facebook Watch.