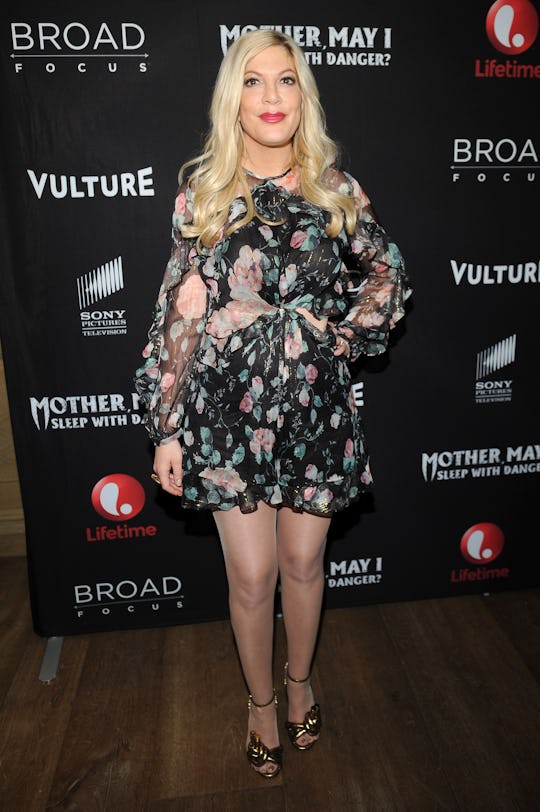 Brad Barket/Getty Images Entertainment/Getty Images
Tori Spelling Is Pregnant With Her 5th Child & Couldn't Be Happier About It
Tori Spelling and husband Dean McDermott have definitely had their ups and downs, but these days Spelling says they're in a great place — so great, in fact, that Tori Spelling is pregnant with her fifth child, and they are super excited at the prospect of expanding their family. Spelling told People that the pregnancy was "a total surprise," but that they'd "always wanted a big family" and now that's exactly what they're getting. The new arrival will join siblings Liam, 9, Stella, 8, Hattie, 5 and Finn, 4, and will mean that Spelling and McDermott will be starting all over with an infant again just as they'd been adjusting to having all their kids out of diapers and in school. Spelling also joked that they'd "need a Sprinter van" for their growing brood.
But jokes and inevitable nervousness about adjusting to the idea of being a family of seven aside, Spelling explained that, while unplanned, the pregnancy was something they were all looking forward to. Though Spelling and McDermott weathered an incredibly rocky patch in 2013, after news of his infidelity came to light, they stayed together and recently celebrated their 10-year anniversary. According to E! News, Spelling told TODAY earlier this year that she and McDermott "started at ground zero and built it back up," after the affair, and later explained to Us Weekly that they were now "doing great," and had become "really strong, committed and grateful."
Despite their challenges, Spelling has been particularly open about sharing her life publicly throughout the years. Not long after their wedding, the couple documented their attempt to open a bed and breakfast together on the reality show, Tori & Dean: Inn Love. And later, Spelling shared her struggle to navigate the fallout of McDermott's infidelity on True Tori, after deciding she wanted to face the scandal head on, instead of letting the tabloids control the conversation. Of the decision, Spelling explained to Lena Dunham in an interview for Lenny Letter in January that she felt it was the best way to be true to herself:
Everyone said, 'This happens all the time. Look at all the A-list celebrities. They used to complain about it. Then they go on and do a big movie and it just goes away.' That's not my life. That's not my relationship with my fans. I'm not the type that can just go from talking about everything and then it's like, 'No personal questions,' the next time I do something.
She also told Dunham that becoming a mother brought up her own anxieties stemming from her difficult relationship with her parents, and her mother in particular:
When I found out I was pregnant with a daughter, I thought, 'F**k. I am screwed.' I cried when I found out I was carrying a daughter. I didn't know what to do. I thought, I'm going to repeat the past. This is just the way it goes.
[But] I'd think, 'What would make me different? What's my instinct of what would make that different?' My instinct was touch. I just wanted to hug her and hold her and tell her how beautiful she was and make eye contact.
These days, Spelling said that she's turned a huge corner in her marriage and in her life in general, and told People she's "so madly in love" with McDermott and their kids. One thing she didn't discuss though is what she thinks her delivery might be like the fifth time around. According to ABC News, Spelling had an incredibly difficult pregnancy with her fourth child, Finn, due to a condition called placenta previa. For Spelling, that meant four months of bed rest and "nine intense bleeding episodes," before giving birth at 37 weeks. But the complications didn't end after delivery: Spelling's surgical scar ruptured three weeks later, requiring surgery and a two-week hospitalization.
But if the prospect of another difficult pregnancy is worrying Spelling, so far she's not dwelling on it. Of her pregnancy news, Spelling told People that "this baby happened at the best time," and that the idea of adding to their family was such a blessing." And honestly, that is really great to hear.