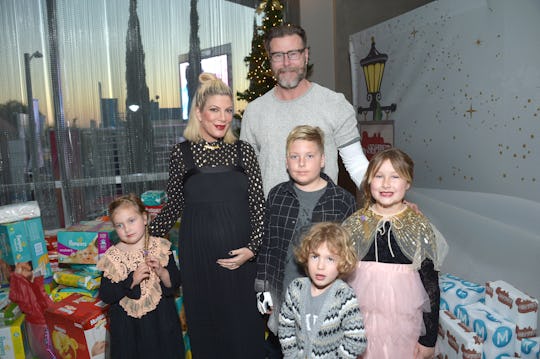 Matt Winkelmeyer/Getty Images Entertainment/Getty Images
Tori Spelling Welcomes Her 5th Child
Think about it: Beverly Hills, 90210's Donna Martin always did seem like the type who would raise a big family one day, didn't she? Tori Spelling has welcomed her fifth child with husband Dean McDermott. Beau Dean McDermott was born via C-section on Thursday, according to Us Weekly, and People reported that he was born at 1:48 p.m., weighing 5 pounds, 12 ounces and measuring 18-and-one-half inches long. He joins human siblings 9-year-old Liam, 8-year-old Stella, 5-year-old Hattie, 4-year-old Finn, and half-brother Jack, 18, in addition to 5-month-old Nutmeg, a miniature pig, four bearded dragons named Slushie, Kisses, Blackbeard, and Kizmet (ages unknown), Murray, a hairlesss guinea pig (age also unknown), as well as a menagerie of dogs, rabbits, chickens, hamsters, and at least one goat.
Spelling is one of those rare unicorns who genuinely loves being pregnant (as well as raising the resulting children, of course). She's been proudly sharing pregnancy pics on Instagram since October, captioning a recent (gorgeously styled) photo, "I feel the most comfortable, confident, natural, and beautiful when I am pregnant. The pregnant body is such a gift!" Wow! I cannot relate to that at all! But good for her. I truly believe she means it.
Spelling opened up about her pregnancy to People last October, revealing that Beau-to-be was a "very welcome surprise":
I never thought I'd be pregnant again. I said before my pregnancy with Finn that I love being pregnant, and it was such an amazing experience, and this one has not let me down! It's been great. I have energy and I feel like I'm loving every minute of it.
Spelling suffered from placenta previa during her pregnancy with Finn, but this last pregnancy was without complications. She also shared her secret for staying fit while expecting: "I have four kids and it's the biggest work out of anyone's life! I literally am up at 6 a.m. with the kids, I do not do my thing and settle in bed until 9 at night. Literally I don't sit down." I'm exhausted just thinking about it.
Still, somehow Spelling finds the time to write a lifestyle blog, ediTORIal, where she shares craft ideas, recipes, decorating tips, style advice, and personal stories about her family, all artfully photographed and so perfect-looking that you'll want to resent her, but you won't be able to, because she's just so darned likable. Congratulations to the Spelling-McDermott family. Now please, stop making the rest of us look so mediocre by comparison.