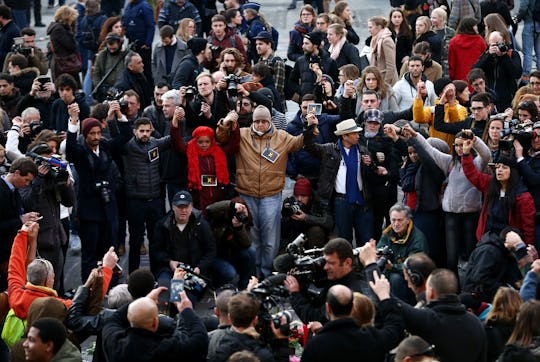 Carl Court/Getty Images News/Getty Images
Touching Facebook Tributes To Brussels Attack Victims Show The World In Mourning
Once again, the world struggled to make sense of another horrific terror attack on Tuesday morning — this time, three possibly coordinated terror strikes in Brussels killed at least two dozen people, according to multiple news sources, and left more than 130 more wounded. The early morning bombings at the capital city's major airport and a central subway station were an eerie reminder of the slate of explosions that rocked Paris late last year. And on Tuesday, as after the Nov. 13 attacks around Paris, people offered touching Facebook tributes to the Brussels attack victims. But many of the tributes did more than offer sympathy for everyone affected; quite a few made insightful, heartfelt statements calling for compassion and tolerance in the face of violence.
The hours that followed the wave of bombings in Brussels brought few details on the people who actually carried out the attacks, though Belgian officials called the assaults "suicide bombings," possibly fueled by last week's capture of Paris bombing suspect Salah Abdeslam, according to BBC News. By late Tuesday morning ET, members of the terror group ISIS had claimed responsibility for the bombings, according to The Independent, saying in a statement that the attackers had used "explosive belts and devices" to carry out the brutal assaults.
But even as authorities grappled with efforts to calm concerns in Belgium and other Western countries, the message from Facebook users was one of solidarity and strength as people from around the world took to social media to offer words of support to the Brussels attack victims.
Belgian Prime Minister Charles Michel posted messages in French, Dutch, and English saying that the nation was "united and gathered" to stand against the attackers, who he called "cowards":
Face à ces attentats aveugles et lâches, nous sommes unis et rassemblés. Notre priorité va aux victimes et à la sécurisation du pays.
We betuigen ons medeleven aan de slachtoffers. Ik veroordeel deze laffe aanslagen op onze samenleving. Nu moeten we allen verenigd zijn.
I strongly condemn these hateful attacks. Our thoughts go out to the victims and their families. We stand united against terrorism.
Kosovo's London ambassador, Lirim Greicevcei, said he was "shocked" by the Brussels attacks and stressed that those responsible for the bombings would "not succeed to break the spirit of the free world":
Shocked by the terrible loss of lives at the hands of terrorists in Brussels, the capital of Europe. I have passed through the Brussels airport countless times, probably every ten days from 2010-2012 during the first phase of the EU-sponsored talks between Kosovo and Serbia. Whoever decided to target innocent civilians going about their daily lives will not succeed to break the spirit of the free world. Today we all stand with the people of Belgium and the families of the victims of these despicable acts.
Guy Verhofstadt, a Belgian politician, added his own words of support to those affected by the wave of violence on Tuesday, saying that "After Madrid, London, Paris and Brussels today, it is time that Europe unites" to fight against terrorism:
I am devastated by the cowardly bombings in Brussels today.
My thoughts are with the victims and their families.
Terrorism must never prevail. After Madrid, London, Paris and Brussels today, it is time that Europe unites.
We should not live in fear, but work together and unite to fight this terror.
Facebook user Jason Lim posted an urgent and uplifting message urging people to "live a fuller life" in the face of events like the Brussels bombings:
A minute to feel gratitude for we are alive and to remind ourselves not to be estranged with meaningless and senseless matters that could be resolved with a smile; and especially to live a fuller life with as little remorse, guilt, and regret as much as possible. Tell your loved ones "I love you" today; renew your marriage vows with your spouse now. Be so grateful and thankful you 2 are together at this moment - right now.
Canadian government official Sukh Dhaliwal also spoke out against the "cowardly acts of terror" in a brief statement posted on his official Facebook page:
I strongly condemn the attacks in Brussels this morning. I offer my sincere condolences to the families of the victims. The world stands united against these cowardly acts of terror.
Rob Feist, also an official in the Canadian government, called the Brussels attacks an act of "staggering" cowardice against "one of the most peaceful countries in the world":
I am deeply saddened by today's attacks in Brussels.
Belgium is one of our oldest friends, and one of the most peaceful countries in the world. The cowardice required to attack unarmed civilians is simply staggering.
Our thoughts and prayers will be with the people of Belgium over the next days and weeks.
New York Times columnist Nicholas Kristof also posted a message of solidarity with the people of Belgium:
Thoughts and sympathies with all Belgians as they suffer a series of terror attacks in Brussels. A terror attack isn't just an assault on individuals, but also on a nation, and so we stand with Belgians and with Belgium.
Later, at least a handful of messages on Facebook became more divisive as several U.S. leaders and presidential candidates came forward to frame the brutal assault as evidence that American immigration policy should be more restrictive, ignoring evidence that a scant few Muslim immigrants have been linked to terrorism in the U.S. Instead, most coming to this country take on low-wage (and often undesirable) jobs in order to escape the threat of violence in their own countries. However, for the most part, the sentiment on Tuesday was one of solidarity and mourning.
Social media continues to be the best, most natural way for people to express sadness, grief, and outrage that — once again — an entire city is left reeling because of a brutal act of violence.