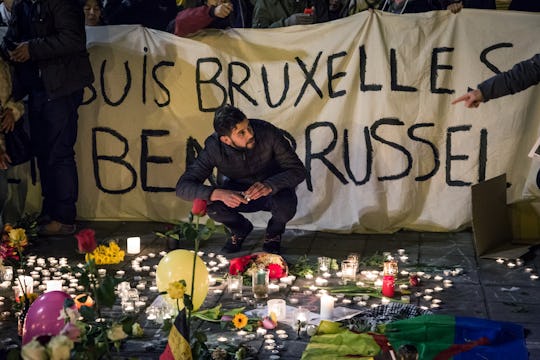 AURORE BELOT/AFP/Getty Images
Touching "Je Suis Bruxelles" Messages Illuminate The Beauty Of Unity After Tragedy
On Tuesday, attacks at both a Brussels airport and metro station left at least 30 dead and approximately 230 injured, according to CNN. ISIS has already claimed to be behind the terrorist attacks, which occurred between 7 and 10 a.m. local time. However, much as it did in the Paris attacks, support has come in all possible forms, with people laying flowers on Brussels streets and offering those in need of help an open door (with #PorteOuverte) or a ride (with #BrusselsLift). Throughout it all, Belgians and supporters around the world tweeted touching #JeSuisBruxelles messages that expressed their solidarity.
Many congregated in central Brussels' Place de la Bourse to write messages of support in chalk, according to Vox, writing "While there's life, there's hope. We are hope," "Long live peace," and "Chocolate, beer, and love are still better for humanity than bombs and hatred." That same spirit of mourning and a redoubled call for love and peace echoed across in the online world, with supporting Twitter messages tagged #JeSuisBruxelles ("I am Brussels").
It's the refrain born from the Charlie Hebdo attack in France, and historian Pierre Nora told The Atlantic that the attack sparked a feeling — "as if suddenly the collective was awakened in the individual." I can't think of a better way to describe the sentiments of #JeSuisBruxelles, so I will let the tweets do the talking instead:
On such a tragic day, it's more important than ever to stand together and stay strong. It's been a heartbreaking year for Europe, but the solidarity that's echoed across the world after each tragedy is reassuring and unifying when the world needs it most.